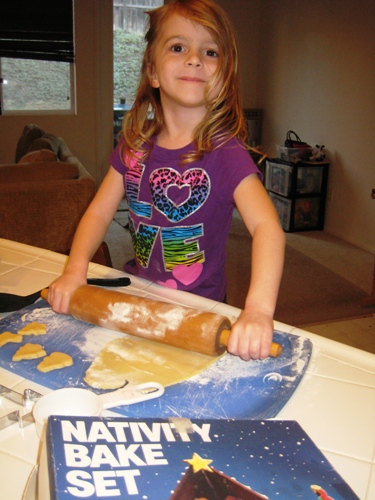 We love to have a big variety of Christmas cookies on the plate.Last year the kiddos and I made a dozen different kinds! We baked them the weekend of Thanksgiving and then froze them to enjoy through New Year's. It was great fun.
I was chatting with my friend Shaina the other day, and she mentioned that her daughter was going to be making cupcakes. Her daughter is five. In that moment, I realized I need to loosen some control in my kitchen. I tend to micromanage things. But, if the kids are going to follow their food passions and become independent in the kitchen, I need to let loose a little bit. (See Shaina's tips for holiday baking with kids.)
Not only are we going to bake Christmas cookies this year, but I hope to give my kids a little more freedom in the kitchen.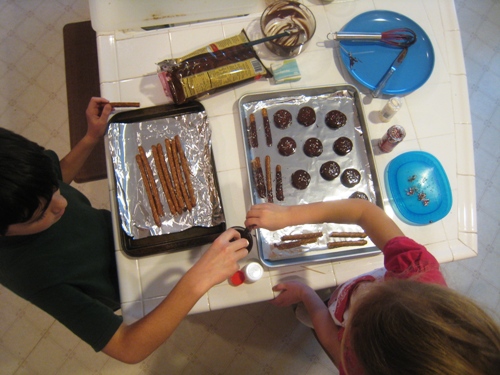 The other day, FishChick and I started out dipping Oreos and pretzels in chocolate. It quickly morphed into more kids joining in and then the kids doing the project all by themselves. And somehow marshmallows entered the equation. It was so fun to be a Yes Mom in that moment!
I don't know if child-freedom-in-the-kitchen will result in a dozen different kinds of Christmas cookies this year, but I'm betting we will have a blast — and hopefully the kids grow in their kitchen skills and I will grow in saying, "Yes."
Check out our family's top 12 Christmas cookies and bake someone happy!
12 Days of Christmas
For the next 12 days, I'll be posting quick and easy ideas for family fun while some friends are sharing tips in different areas.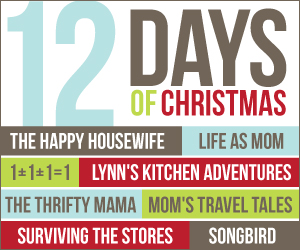 What's YOUR favorite sweet treat to make at the holidays?