Bake Someone Happy
We are a participant in the Amazon Services LLC Associates Program, an affiliate advertising program designed to provide a means for us to earn fees by linking to Amazon.com and affiliated sites. We participate in other affiliate programs as well. For more details, please see our disclosure policy.
I played in the kitchen this weekend. It was a very tasty way to spend a few days. But, the highlight, of course, was to sit by the oven with these two, waiting for our cookies to bake.
I confess that I'm not always eager to let my little ones bake. I'm usually in a hurry and desirous of avoiding a mess.
But, they love it so much!
Note to self: please let them bake with you more often.
A good time was had by all. And many double-chocolate oatmeal cookies were consumed.
Baking with my kids is a great way to stop and smell the roses.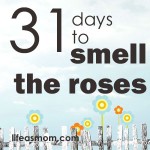 The days are long, but the years are short. I don't want to miss them! For more short and sweet ideas on how to stop and smell the roses, to enjoy the little things in life, check out my 31 Days to Smell the Roses series.
Don't miss a post in this series. Subscribe to 31 Days to Smell the Roses by RSS or email.