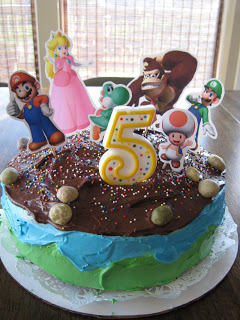 This is not difficult.

Repeat after me. This is not difficult.
Trust me. It really isn't too hard to make a cool looking cake. The basics that you need include a boxed cake mix, a couple cans of frosting, some candy, and some toys. You can get more elaborate with some paste food coloring to dye the canned frosting, but that's an extra.
But, first, a disclaimer: I am a food snob by nature. I don't normally enjoy prepackaged groceries and food out of a box. I have years of back issues of Bon Appetit and Fine Cooking to prove my fascination with homecooked meals. However, time is a necessity. And as my family has grown, time has become more precious. The first birthday cake I made for my child was from scratch with from-scratch buttercream frosting. It took me an entire day to make the cake. Those days are over. Duncan Hines, thank you!
Today birthday cakes at our house are embellishments of simple, easy to use ingredients. If you've got the time and inclination to sift and cream and bake, go for it. But, this is my groove as far as birthdays are concerned. If you want to make a delicious cake from a box, I highly recommend the book, The Cake-Mix Doctor. There you will find a ton of recipes for "doctoring" up a boxed cake mix. Our personal favorite? Darn Good Chocolate Cake. Now back to our program….
Here's what to do:

1. Choose your theme. I let the bday kid decide and then we brainstorm if there's a shape or a scene that we could depict using toys, action figures, and candy. We often build "diorama" type cakes as you'll see below.
2. Prepare cake mix according to package directions or embellished recipe of your choice. Cool completely.
3. Find a serving tray or piece of cardboard covered with foil to hold your finished product.
4. Gather any toys you might use and wash and dry them well. We love Playmobil for this purpose.
5. Assemble frostings, candies, and toys. We like number candles at our house. As you will soon see.
6. Have a good time frosting and decorating your cake!
Below are some real-life examples to help you visualize it.
Here we had a pirate birthday party, so a treasure chest cake was in order. You can find detailed instructions to creating this cake here. But, basically, it's pieces of cake glued together with lots of frosting and embellished with candies. Not hard at all. (The hardest part was finding chocolate coins in the middle of summer!)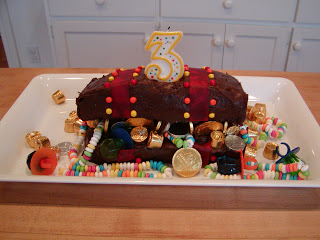 A few years later we did another pirate party, yet opted out of the treasure chest. (We like to be original each time, just so that I can spin my wheels a little more than normal.)
This was your standard layer cake representing a tropical island, frosted with some chocolate (because that tastes better), blue-tinted frosting for the water, and coconut frosting tinted light brown for a sandy beach. Then we went to town with candy pebbles (find these at your local bulk candy shop) and Playmobil toys.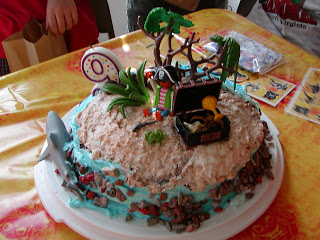 When the theme was "Fun in the Sun," we had a beach cake. Another chocolate layer cake, partly frosted in chocolate and part in tinted frosting for the water. Use colored sprinkles for the waves on the beach and crushed graham crackers and nuts for the beach itself. My favorite touch was the brown sugar packed into the toy pail for a miniature "sand castle." Again, embellished with Playmobil toys. (I think Playmobil needs to hire me to write a cake book for them, don't you?)
Here is our famous Star Wars fascination represented in sugar. We reenacted the volcano scene from Episode 3 where Anakin and Obi-Wan duke it out. (Forget the fact that the fumes from the volcano would have killed them; this is George Lucas, right?) Cakes were baked in mini loaf pans and small pyrex bowls. Frosted in chocolate and white and embellished with candy rocks, pebbles, Hershey bars, and Hasbro action figures.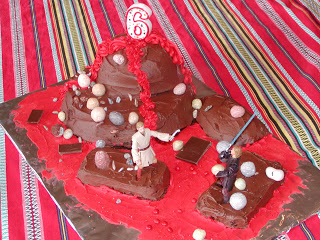 Last year was the year of all things Mario for my FishBoys. Toys and action figures were impossible to find, so we downloaded images from the Internet to print and tape to toothpicks. If you are familiar with the video games, you will recognize the bright blues and greens that are represented in Mario Cart. It's a pretty fun, vibrant game, so I tried to represent that in the cake. Chocolate frosting is a necessity. Colored sprinkles and candy rocks topped it off.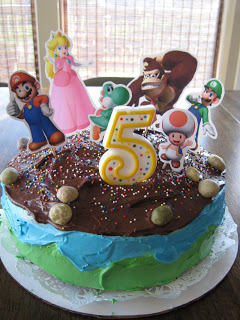 Both June boys wanted Mario cakes, so we did a variation of the above, recycling our character print-outs. The cars didn't come out as stellar as I had hoped. Mario Cart fans will appreciate the candy hearts and bananas that are part of the game.
My husband shares his birthday with Kansas Day. Who knew? One year I made him a Kansas cake, complete with crops, cattle, and sunflowers. The sheet cake is the exact shape of the state, with a wee little bit cut out of the upper east corner. Unfortunately, I couldn't make a cake as flat as the state. (I can say that because we live here.)
By this time you can tell that my life has been dominated by testoterone-inspired birthdays. My Girlie is only 1, so I haven't delved into the world of Hanna Banana (or whatever her name is) and princesses. But, I'm sure I will get a chance to do so. I have made one female cake so far. It was for a baby shower. A regular sheet cake with tinted icing across the top, colored sprinkles, some nuts and those wonderful Playmobil. I also made use of my scrapbooking supplies to fashion some girl clothes to hang on the line.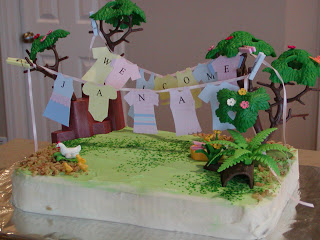 Lastly, (for those who are still with me) my piece de resistance. The rainforest cake. This is my favorite. A sheet cake with half a bundt cake on one end for a cliff. Chocolate and blue frosting, candy rocks and pebbles, the ubiquitous Playmobil toys, coconut flakes for the foam of the waterfall, and the thing that made it – green pull and peel licorice. This is very tough to find — right up there with Indiana Jones cereal. But, it totally transformed the cake.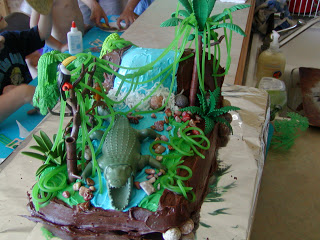 See, that wasn't so hard. You can do it too! You and your kiddos will have fun, it will taste great, and you'll have a cool pic to post on your blog or in your scrapbook.