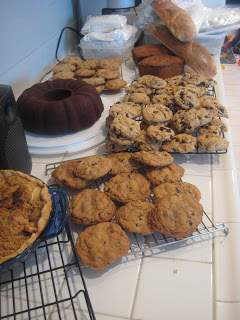 We did it! Almost. The banana bread didn't happen, but seeing as I didn't originally intend to make the carrot-zucchini bread, I'd consider it a wash.
— Gramma John's Blue Ribbon Chocolate Chip Cookies
— Land O' Lakes' Chewy Jumbo Chocolate Chip Cookies
— Chocolate Chip Banana Bread
— Baguettes
— Calzone Dough
— Cranberry Bread
— Apple Pies (one to bake – one to freeze)
— Chocolate Zucchini Cake
— Mixes for pancakes, waffles, and Maple-Oat Scones
And an impromptu addition:
Carrot-Zucchini-Walnut Bread
We only had one casualty – mine (a blistery burn from a hot pan). Overall, it was a productive day.
I think it's time to exercise tomorrow.