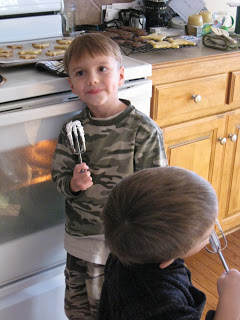 I probably have higher expectations than are reasonable for our baking day today. I prefer to aim high in most things. But, we'll see how much is reasonable for baking up a storm with six children helping.
Here's our agenda for the day:
— Gramma John's Blue Ribbon Chocolate Chip Cookies
— Land O' Lakes' Chewy Jumbo Chocolate Chip Cookies
— Chocolate Chip Banana Bread
— Baguettes
— Calzone Dough
— Cranberry Bread
— Apple Pies (one to bake – one to freeze)
— Chocolate Zucchini Cake
— Mixes for pancakes, waffles, and Maple-Oat Scones
Check back later to see how we do. You can also follow along on twitter: fishmama. Recipes to follow as well.