Having wonderful baked goods is a beautiful thing. Stashing them in the freezer so that they are at the ready is even better. But, how you store them is pretty important. They won't go bad, per se. Freezer burn won't make you sick. It just tastes bad. And then, what's the point?
For most cakes or breads, you can wrap them in plastic wrap or foil and then place them in a ziptop bag. Since there is moisture in the air, you want to remove as much air as possible. (Moisture is what causes frost.) My favorite frugal method is to suck the air out with a straw. Zip the bag until only a straw will fit through the opening. Then suck. Like blowing up a balloon, only in reverse. It's just like those seal-a-meal dealies, only this straw method's free if you grab an extra straw next time you're at McDonald's.
I bagged the cookies in quart size freezer bags in portions of 12-14. Believe it or not, 8 dozen cookies are not going to last too long around here.
I made two apple pies for the freezer. I didn't bake them first. I just wrapped them in foil, labeled them with, "4/14 Apple Pie," and slipped them in ziptop bags.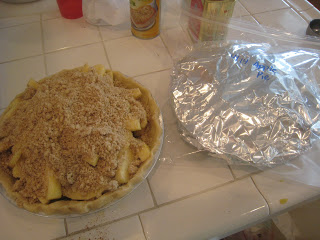 The pizza/calzone dough I placed in a greased tupperware. Then I nestled them with plastic wrap to act as a buffer between the dough and any frost that might develop. A day before serving, I will pull this from the freezer, remove the plastic wrap, and allow the dough to thaw and then rise as normal in this container.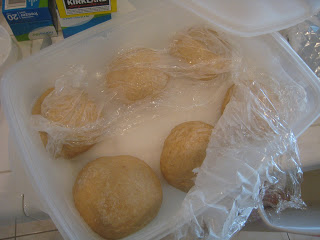 We assembled the baking mixes in quart size ziptop bags, labeled with the item's name and the ingredients that need to be added later. These will be stored in the freezer if room allows so that they'll have a longer shelf life.