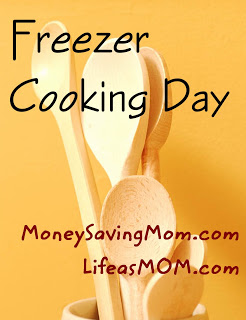 Interested in learning more about freezer cooking and baking? Well, this is your week!
MoneySavingMom and I are going to be live blogging and tweeting our kitchen adventures on Tuesday and Wednesday. We've even got a Facebook Event page set up as well as a Twitter hashtag to follow (#BakingDay). (Aren't we fancy?)
It's a weird world we live in that we can know instantly what our friends are doing elsewhere around the globe. Hey – are you burning those cookies? can be "heard" in a different time zone.
This week's URS will be an opportunity to share your favorite make ahead recipe so if you've got a great recipe – or need one – Thursday's the day!
As for me and the FishKids, we're going to be experimenting with a few new recipes, many of them from Susan Branch's book, Autumn. It's a beautiful tome. Be sure to read my review.
My kids all love to cook and bake, so some of our homeschool lessons for the week will include Home Economics. I love knowing that my kids – both boys and girls – are learning real life skills as well as book knowledge. If you're stumped for ways to incorporate — or survive — cooking with kids underfoot, I'll be posting my tips for that this week as well as how to keep track of what's in the freezer.
November Freezer Cooking Daze
Breakfasts and Breads
Mixes for Scones, Pancakes, Cornbread, and Muffins
Indian Shuck Bread
Foccaccia
Main Dishes (see our November Meal Plan)
Cooked and Seasoned Ground Beef
Hamburger patties to freeze
Touchdown Chili
Shredded Beef Filling
Cheesewiches (recipe to follow)
Pizza Dough
Chicken for summer rolls, stir fry, and grilled chicken
Pinto Beans
Snacks and Sweets
Crockpot Applesauce (recipe to follow)
Homemade Marshmallows
Hot Cocoa Mix
Slab Apple Pies (recipe to follow)
Gramma John's Chocolate Chip Cookies
— and who knows what else!
Stop by and check out all the craziness fun!