Baking with children is, indeed, a fun, family activity. I can vouch for it. We just survived an all-day baking frenzy, the kids and me. Although I know from experience that it's a good thing, sometimes I need a little fresh encouragement to tackle the adventure. Ever feel like that?
Over the last year, I wrote two ebooks that I am convinced will help families have fun together and save money. They are guaranteed to inspire you, particularly as it relates to letting the kids join you in the kitchen!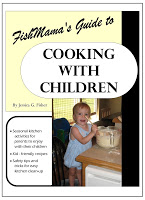 The first is a guide to cooking with children. You know that cooking from scratch is a great way to save money. And if you prepare these dishes with your children's help, it's also a cheap form of entertainment. Not to mention that you're teaching them life skills in the process. FishMama's Guide to Cooking with Children features:
Seasonal kitchen activities for parents to enjoy with their children
Over 25 kid – friendly recipes sure to satisfy even the pickiest eaters
Safety tips and tricks for easy kitchen clean-up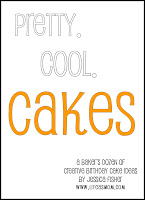 The second book, entitled, Pretty. Cool. Cakes, is a handbook for creating your own festive birthday cakes at home. Usually bakery cakes cost upwards from $12. For less than half that, you can create a fun, theme cake that looks cooler than ones you would pay for. This book features a baker's dozen (13) of themed cake designs, including The Breakfast Cake, Fancy Nancy, and Indiana Jones as well as a basic tutorial to craft one of your own design.