Baking with Children: 4 Great Read Alouds
As an Amazon Associate I earn from qualifying purchases. For more details, please see our disclosure policy.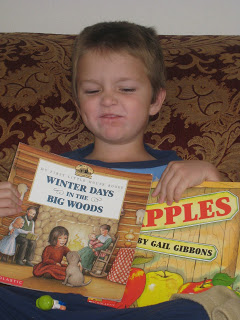 One thing that I've loved to do since my oldest was a toddler is to read books that follow some kind of theme. This has carried over into our homeschooling as well. The books that we read in any given week all fit some overarching theme. I've found that this helps reinforce concepts and ideas to read about them in different contexts.
Little ones love this, especially when you add some type of extension activity to your reading. The book, Story Stretchers is good for finding ideas and inspiration for enrichment activities.
Since we did a lot of baking this week, I rifled through my bookshelf to see what we had for baking-themed read alouds. My littles could read all day long. I'm realizing that this needs to move higher on the priority list. So, my 4-year old and 2-year old and I sat down and read these books that all have baking or baked goods featured in them.
Paddington Bear – This colorful picture book features not only the story of how the Browns found Paddington, but it also mentions several yummy snacks: orange marmalade, cream and jam cakes, buttered toast. Reading the story and then preparing and eating one of Paddington's snacks is a good way to embellish your reading time.
A Baby Sister for Frances – I have loved Frances since the days when my mom read her tales to me! This one recounts how Frances runs away (to the dining room) when she feels surplanted by Baby Gloria. The emphasis, however, is on the joys and benefits of being the big sister, including being able to make and eat chocolate cake. Chocolate-Zucchini Cake is a great follow-up snack to this story.
Apples – Gail Gibbons is a great illustrator and educator about different concepts. Her books are clearly "educational" in that they cover the basics of different ideas of life. She's my "go-to girl" for informative books. This one, about apples, explains how an apple grows and what we can do with apples, including making an apple pie. She includes an illustrated recipe.
Winter Days in the Big Woods "My First Little House Books" is a series of children's illustrated books that take the stories of Mary and Laura and adapt them for shorter attention spans. The drawings are delightful. This one doesn't focus so much on "winter" as it does on Ma Ingalls' food preparation, including making bread and baking cookies, both excellent follow-up activities to storytime.
To discover other new read alouds and children's books, visit The Happy Housewife's roundup of books.
What's your favorite baking read-aloud?