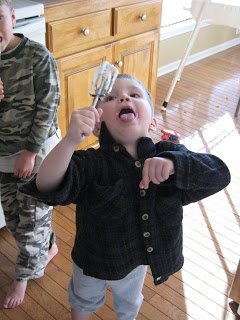 Children love to help in the kitchen. Whether it's licking the beaters, measuring and dumping flour, or loading and unloading the dishwasher, young children often like to be part of the action.
Though it may be troublesome at times, teaching your little ones to help in cooking (and cleaning) has a number of benefits:
1. They learn about measuring, mixing, and sorting, all beginning math and science skills.
2. They gain valuable life skills: how to prepare their own food.
3. You eventually have an independent helper. My 11 year old son can prepare quite a lot of foods all on his own which is a boon to this busy mama.
4. You create beautiful memories and traditions together.
And one thing that toddlers and preschoolers particularly appreciate is having their own equipment. Whenever you can, provide your little ones with child-sized aprons, chef's hats, and tools. They will love the pretending that results.
Today you can enter to win the apron pictured above. Go here for the details.