Bananas and pecans add flavor, sweetness, and crunch to your standard crumb-topped coffeecake.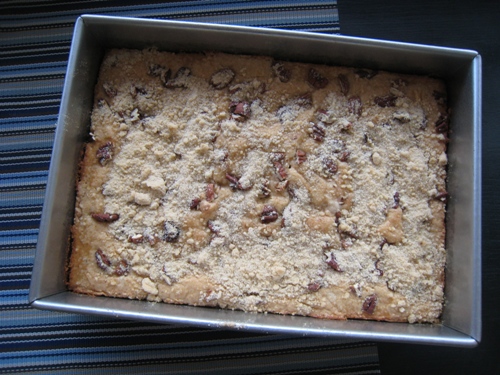 We go through a lot of bananas around here. I enjoy Monkey Salad fairly often as it's one of my favorite healthy sweet treats. FishBoy15 works out on a regular basis and bananas are a great post-workout snack for him. The rest of the crew enjoys them as a readily available fruit. Remember how thrilled they were with Magic Monkey Bananas?!
I need to do that again.
I love to buy the small "lunchbox" size bananas. They are the perfect size for the littles, well, and for me to. Since bananas are always under $1 a pound, sometimes as low as 47 cents, they are a cheap fruit to keep on hand.
Inevitably though I can overbuy. We end up using the very ripe bananas in smoothies, like this Coconut Mango Banana version or just freeze them sliced to stock the Smoothie Station.
Bananas are also the perfect baking ingredient, making a lovely appearance in Chocolate Banana Marble Cake,  Banana Cupcakes with Chocolate Cream Cheese Frosting or Coconut Banana Bread with Chocolate Chips.
What is it with bananas and chocolate?!
Recently, I featured banana in one of our favorite coffeecake recipes. Yum! This crumb and nut-topped confection disappeared in a flash. You could add chocolate chips if you wanted. Ahem.
Recipe: Banana Pecan Coffeecake
Ingredients
1 cup all-purpose unbleached flour
1 cup white whole wheat flour
2 cups brown sugar (can also use granulated sugar)
1/2 cup butter
2 mashed ripe bananas
1/3 cup milk
1 egg
1 teaspoon vanilla
1 teaspoon baking powder
1/2 teaspoon salt
1/2 cup pecans
Instructions
Preheat the oven to 350°. Grease a 9×13-inch baking dish.
In the bowl of a food processor, combine the flours, brown sugar, and butter. Pulse until coarse crumbs form.
Remove 1 cup mixture and set it aside.
In a mixing bowl, combine the banana, milk, egg, and vanilla.
Add the baking powder and salt to the remaining flour mixture. Stir in the wet mixture. Blend until smooth.
Pour the batter into the prepared pan. Sprinkle the pecans over the batter. Sprinkle the reserved crumb mixture over the nuts. Bake the coffeecake for 35 to 40 minutes or until a tester comes out clean.
Preparation time: 10 minute(s)
Cooking time: 45 minute(s)
Number of servings (yield): 12