Ever since I was a little girl, I've enjoyed going to baseball games. See, me and Tommy Lasorda go way back. But, I was surprised to realize last week that it had been 18 years since I'd been to a Major League Baseball game. The FishBoys and Papa have gone quite a few times over the last few years, but I guess I've been home with babies.
Last week my college roommate came down to San Diego to take us to a Padres/Dodgers game — just us adults. Despite my LA roots, I have, indeed, switched allegiances to the Padres. Yes, yes, I did. And they're doing quite well this year, thank you very much.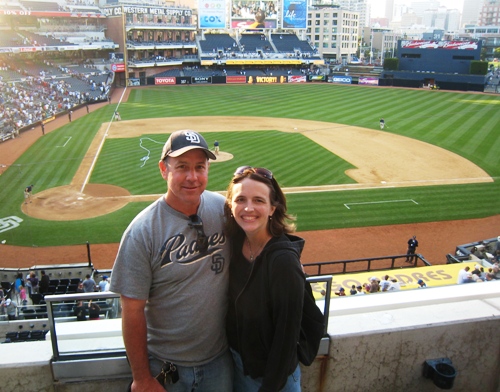 Petco Park is a beautiful stadium, conveniently located in Downtown San Diego with views of the ocean. It is an extremely family-friendly park, complete with a playground, grassy hills, and a sandbox near the "beacher" seats. And the fans are some of the nicest and friendliest. We're hoping to go back at least a few more times this season, with kids and without.
It was great to see Laura, too. God paired us up 20 years ago as college freshman, and we're still friends today — even though she is still a Dodgers fan.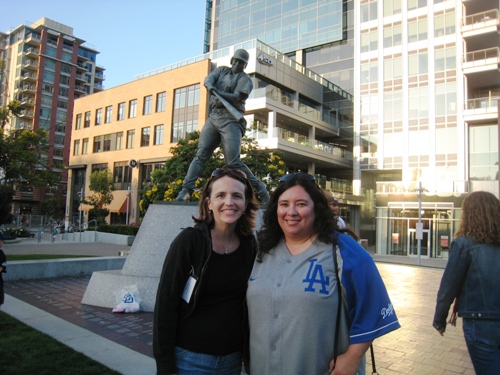 Laura is on a mission to tour the MLB stadiums throughout the country. So, what fun to get to document her trip to Petco Park!
In other baseball news….
Wanna go to the World Series?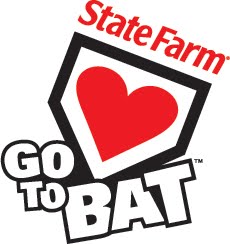 Recently I found out that State Farm and Major League Baseball have teamed up together to give people a chance to attend the 2010 World Series for free through their "Go to Bat" Program.
Baseball fans can sign up to play the online Home Run Derby game.
Pick a charity to team up with. There are a number of great groups to partner with from the American Heart Association to St. Jude's Children's Research to Mothers Against Drunk Driving. Every time you score a homerun on the online game is another entry for you and for the charity of your choice.
Each week, a baseball fan is chosen to win a trip for two to games 3 and 4 of the World Series.
The winner's charity will receive a weekly donation equal to $100 for every home run hit that week in MLB.
At the end of the 10-week program, the charity with the most "entries" will be awarded $25,000.
The online game is pretty fun to play. I must confess I was terrible at it, hitting one ball out of 11. So I'm getting my husband to start playing! We have dreams of a Padres World Series. 😉
Wanna win today?
This week, three LifeasMOM readers will each win a $50 gift card to Sports Authority, compliments of State Farm.
How to Enter:
Leave a comment telling us who you hope will go to the World Series this year.

Giveaway will be open until Sunday night, August 15 at 8 pm, PST. Winners to be chosen at random and notified via email. Please respond within 48 hours of the email being sent otherwise I may have to choose an alternate winner. THIS GIVEAWAY IS NOW CLOSED. Congratulations to the winners: brewcrew27@, amynjim.nelson@, kanddbk@
Disclosure: State Farm has provided Sports Authority gift cards for the winners and myself. I was not compensated to publish positive comments. I love baseball!