The Battery Box – It Works for Me!
We are a participant in the Amazon Services LLC Associates Program, an affiliate advertising program designed to provide a means for us to earn fees by linking to Amazon.com and affiliated sites. We participate in other affiliate programs as well. For more details, please see our disclosure policy.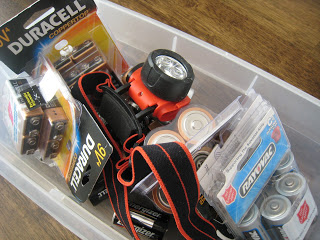 Years ago a friend showed me a practice that her parents had handed down to her. It was a small rubbermaid box filled to the brim with batteries. I was shocked. It had never occured to me to stock up on batteries and to keep them in one centralized location.
(This was obviously before my couponing days.)
Ever since then, we've had a battery box. It is a standard location for all sizes of batteries and other small electronic pieces and gadgets. Whenever anyone needs a replacement, they check the box. When I buy new ones on sale, they have a home right away.
Today it seems like a no-brainer to have this, but I tell ya, it was once a revolutionary idea. Regardless, it is one that definitely works for me!