Battling the Gimmes and the Tightfist
We are a participant in the Amazon Services LLC Associates Program, an affiliate advertising program designed to provide a means for us to earn fees by linking to Amazon.com and affiliated sites. We participate in other affiliate programs as well. For more details, please see our disclosure policy.
Years ago when we came to the realization that we needed to fight our debt with a vengeance, Christmas was drastically pared down. We had kissed our credit cards goodbye, and as a result, only had cash to spend, what little there was. Our bigger kids at ages 10, 7, and 5 were totally on board. They understood we were downsizing. They had one small request. All they wanted were cornbags.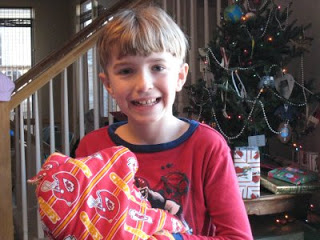 How excited I was to hear that since I was secretly crafting customized cornbags at night after bedtime. That Christmas was so wonderful, in part, because my kids demonstrated that they weren't in it just for the gifts. They were adaptable; they were team players; they had simple desires. They did not suffer from "the gimmes,"and I was so proud.
Last night I had quite an interesting conversation with the Big Three, as we call them. They offered to "give up" their Christmas lists. They felt bad that I was always referring to the cornbag year as my favorite. They didn't want to be selfish (in my eyes or theirs) and they were checking themselves. Hmmm…..
It gave me pause. What kind of message have I been sending to my kids?
The conversation made me realize that I feel guilty spending money — even though we have some to spend. Even though we've planned what we were going to spend this year and even though we have the cash on hand to do it, I have cringed at the checkout instead of taking joy in the gift choices we've made. And my kids have somehow absorbed the fallout.
Once again, they are proving to be team players, and I couldn't be more proud of them.
I'm not saying we shouldn't be wise with our money or not feel remorse when we haven't made the wisest choice. But, I'm wondering if I'm becoming a little too much like Ebenezer Scrooge before he has his change of heart. To be financially prudent is good. But so is being generous. And the two can coexist.
I'm hoping to find the happy medium in my heart and mind this week.
What about you? Do you struggle like I do? Have you figured it out? I'd love to know.
Related Reading:
Molly Gold inspires parents and kids toward volunteerism in Helping Hands.
Cooking During Stolen Moments recently posted Tips to You Share Your Season
Tony shares her secret to raising content kids.
You will love Lynn's story about how her family "gave up" their Christmas lists.
I am inspired by Liz and her family's Drop In and Decorate Day.