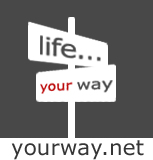 Today marks the launch of a brand new set of blogs. They're a network of sites designed to help you figure out what you want from your life.
It's Life…Your Way.
An offshoot of Organizing Your Way, Life…Your Way seeks to "help you sort through all of the facts and opinions so you can make an informed decision about what works best for your preferences, your needs and your lifestyle."
It's not to ignore absolutes; those still stand. Life…Your Way looks at the gray areas of life and helps you weed your way through the myriad of choices.
Channel topics include
organizing
technology
blogging
green
productivity
success
decorating
finances
food
motherhood
I think you will find amazing resources as the network develops. There is a fantastic group of contributing bloggers over there working to bring solid, helpful ideas to you. And, I find myself in very good company when I say that I am one of the Life…Your Way contributors. I'll be chatting on the food channel.
So, pop on over and check out the new place. And stay tuned for more great ways to make life rock … your way.