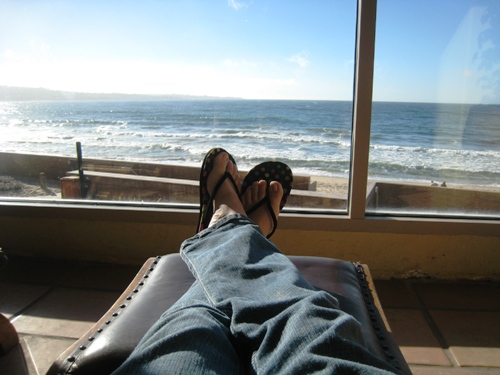 Springtime is here! And with the change of the season, comes a breath of fresh air — literally. The weather, at least in most areas, is starting to mellow. The harsh cold is starting to dissipate. And the new season just beckons you to come outside.
And slip off your shoes!
But, months of being undercover can wreak havoc on your feet. So treat your feet to a little extra pampering. I am not a podiatrist, but here are some common sense ideas on how to be nice to your feet.
1. Give Yourself a Pedicure.
Nothing makes you feel like flashing your toes more than a nice polish job. And if you've ever had a professional pedicure, you know that the foot massage is amazing! My sister is a manicurist, so I get VIP treatment for free. But, I think I would still want to pay for one for the occasional pampering.
If that's not in the budget, Kaboose has a great tutorial for giving yourself a pedicure at home. It's not that hard — and your feet will know that you love them. And if you want to be particularly sweet to your feet, make this sugar scrub to exfoliate and moisturize your skin all in one.
2. Ease Sore Feet with Warm Water and Salts.
Whether your work involves a lot of standing, walking, or chasing kids, you probably experience sore tootsies from time to time. Epsom salts dissolved in warm water can be particularly soothing. A foot bath can help them feel better and reduce swelling.
3. Wear the Right Shoes.
Don't be such a slave to fashion that you sacrifice your feet and posture. Shoes that don't fit right can really cause a tremendous amount of foot, leg, and back pain. Depending on how often you exercise and what activities you take part in, your shoe needs can vary. A good walking shoe has different characteristics than a good running shoe.
And while heels sure are pretty, you might be able to truly dance the night away if you bring an extra pair of more comfortable shoes. I just found these foldable flats to stash in your purse for later — how cool!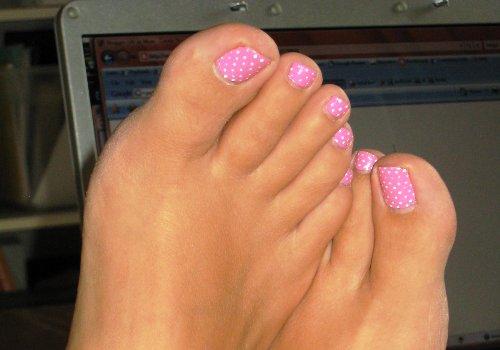 4. Change Your Position.
If your feet are bothering you, it's always good to do something about that. Stand on a mat. Sit instead of stand if your work allows it. Elevate your feet when hot and swollen. Be nice to your feet. You wanna keep them.
5. Change Your Socks.
My husband swears by the changing of the socks. He has our boys bring spare sets to Disneyland and other long walking trips, promising, "You'll feel like a new man midday when you change your socks."
And you'll feel like a new mom if you get some socks that are younger than your oldest child!
A few months ago I examined my sock collection and realized that I own socks from my pre-children days. Yes, really. And some are looking pretty shabby. I was in the market to buy some new ones when Dr Scholl's sent me samples of their newest socks.
Dr. Scholl's For Her® Health Strides socks are designed around an important factor for comfortable living…taking "Strides" to be "Healthy"! The light weight, active-life sock provides a non-binding top that allows circulation in addition to a non-irritating smooth toe seam for extra comfrot. The socks are constructed with Sta-Cool Technology that keeps feet cool and dry.
What I really like about these socks is that they feel like a "cozy sock." You know, the ones that you want to wear. The other athletic type socks I have feel really snug and a bit uncomfortable. These are the ones that I reach for first when I go to choose socks. Seriously.
It's on my list to go buy more now that they're finally available to the general public. You can buy them online and at Walmart. You can even print a $1 coupon off the Dr. Scholl's site. And you can win some this week, too.
This week 100 LifeasMOM readers will be randomly selected to receive two free pair of socks!
Simply fill in the form below with the requested information. 100 winners is a lot of addresses to track down, so this will expedite things immensely. I will email you next week if you are a winner.
If you can't see the form, go here.
This giveaway will be open until Sunday, April 3rd, 2011, at 8 pm PST. Winners will be chosen randomly and notified via email. Please only one entry per person.
This week we're Celebrating Spring. Don't forget to check back everyday for all sorts of fun giveaways and ideas to enjoy the changing of the seasons.
Disclosure: Dr Scholl's is an advertising sponsor of the Spring Celebration series. I received sample socks for review purposes. I was not compensated to publish positive comments. My opinions are my own.