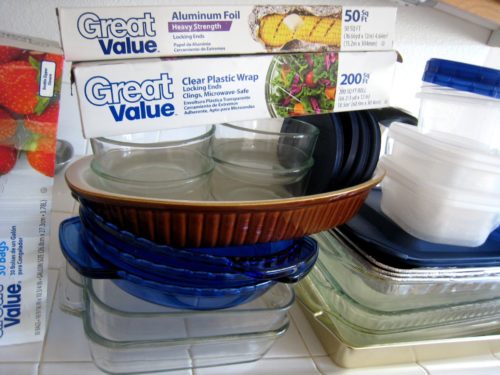 Ready to get cooking? If you've planned out your freezer cooking and purchased your groceries, you may find yourself gnawing at the bit, ready to leave the gate with a burst. However, a word of caution: Make sure you've got everything you need. Otherwise, you may find yourself elbow deep in lasagna and not have what you need to bring the job to completion. Nothing's worse for interrupting momentum than a last minute trip to the grocery store.
Checklists help me. I'm not as OCD as some, but I realize that if it's written down, I'm more likely to get it done. As such, here's a handy checklist to make sure you're prepared for your big bulk cooking day.
Clean kitchen, including the fridge and freezer. Start out with a clean slate, especially since so much food prep will be happening in a short time.
Organize your kitchen if you have the time. An investment, sure, but one that will pay off later when you know where everything is.
Line up all your baking dishes, freezer bags, and wraps. Make a list of the items you may run out of before you're done and pick those up from the store before you start.
Likewise, do you have enough pots and pans? How about crockpots? Ask family and friends to lend you items that you may not want to have all the time, but would be helpful in an adventure such as this.
Wash all your kitchen towels and have them ready for easy use.
Find care or entertainment for your children AND a back up plan in case naptime doesn't happen.
Organize your playlist on iTunes or set up some stations on Pandora.
Make a lunch AND dinner plan. (You may not feel like cooking at the end of the day.) Chill your favorite beverages.
Run through your recipes again and make sure you have everything you need. Make your last minute trip to the store NOW.
Bulk cooking veterans, what else do you do to maximize your potential for success?