Be Ready for that Next Road Trip
As an Amazon Associate I earn from qualifying purchases. For more details, please see our disclosure policy.
This post has been sponsored by Allstate.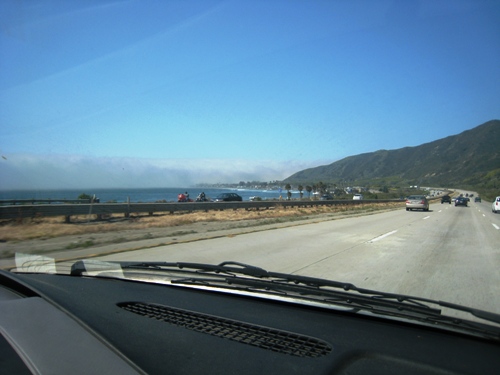 Rincon, one of my favorite parts of the 101
Our family hasn't flown on a plane in about six years. But, we get in the car almost every day. And with the grandparents living two and three hours away, road trips are a frequent occurrence.
"Have car big enough to fit us all, will travel," is our motto. Last year for our first two real live vacations in years, we put a lot of miles on the good old Scourge by driving to Monterey in Fall and to Mammoth Lakes in Winter.
Traveling with six children is no small feat, let me tell you. There's a huge amount of packing and rearranging — and rearranging again. It's a task that I tackle instead of hubs, mainly because I want to make sure everything gets to come.
On our last trip to Santa Barbara, I was surprised to see that everything fit in the back without too much hassle.
Turns out, I forgot the toothbrushes!
No, seriously, it was because FishChick2 no longer needs the Pack-n-Play or the travel booster seat or even a stroller on some trips. It's amazing to me how the seasons change — and how much space you gain as your babies grow up!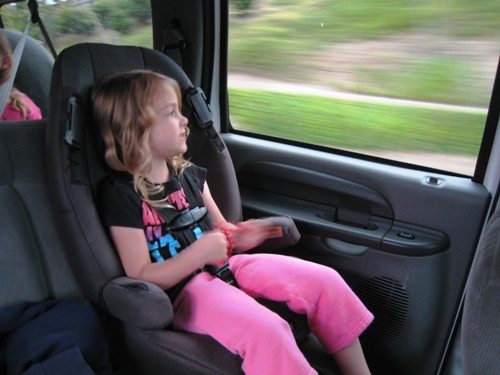 Good Planning = Good Trip
Over the years I'm learning to be better prepared on our trips away from home. Good planning helps a good vacation happen. Good vacations encourage us to do it again. It's a win-win all the way around.
I take mental notes on each trip and try to scheme how to do it better the next time.
Here's how you can be ready for your next road trip:
Get a GPS AND print directions.
We bought a GPS awhile back. We chose a squirrel voice and named it Squirrely. While it has been really helpful, it is not infallible. In fact, the satellite connection has dropped at very crucial moments in the trip, leaving me with no clue where to go. So, I've learned to print directions off Google maps as well as let Squirrely be our guide.
Pack a car sick kit.
After a few too many times of delaying or canceling an excursion due to carsickness, I've learned to keep an emergency kit in the back of the car. Readers had some great suggestions (that you should read), so I'm adding ziploc bags to my kit. Being prepared for upset tummies doesn't take much, but it's totally worth it!
Bring a family playlist.
The other day our regular CD was missing so I popped in an old one that was in the car. Turns out it was a walk down memory lane! This CD was one that I had burned eight years ago when FishBoy14 was really into Davy Crockett and Roy Rogers. The CD reflected those interests of his. It was so fun to listen to — and made our car ride so much more enjoyable.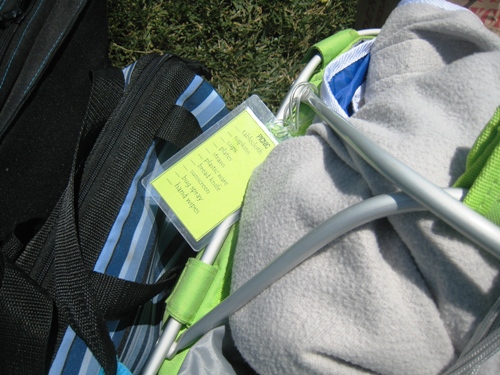 Pack snacks (and a picnic kit).
Since we bought our new-to-us vehicle early last year, we made it a family rule not to eat or drink anything messy in the car. We've only broken it once — on our way back from Mammoth in our efforts to get home before the Storm of the Century hit — FishPapa conceded to eating burgers and fries in the car. Since it poured rain for four days straight after we got home, we had no opportunity to go clean out the vehicle. And did we rue the day we allowed burgers and fries in the car!
Keep a picnic bag ready to go in the back of the car so you can have an impromptu picnic when the mood strikes.
Be prepared for emergencies.
We have been stuck on the side of the road a handful of times. Thankfully, nothing has ever been serious, but the time we blew out our car's engine in 118 degree heat taught us a very expensive lesson: to always check the fluids before you go and make sure that we have some kind of road side assistance plan — just in case.
If you don't already have some type of assistance available, then you might want to consider pre-registering for the Good Hands Roadside Assistance program from Allstate.
You do not need to have Allstate insurance to use this service.
You only pay when you use it, there are no monthly fees.
Pre-registering for Good Hands Roadside Assistance provides faster service at time of need on the road. Those that pre-register will also receive a welcome kit in the mail containing a wallet card, key fob and window cling with the phone number for roadside help.
You can have a total of 5 drivers on your account.
You can sign in through the widget below or visit the website for more details.

What do YOU do to get ready for a road trip?
Disclosure: This post is sponsored by Allstate. I have been compensated for my time writing. My opinions are my own.