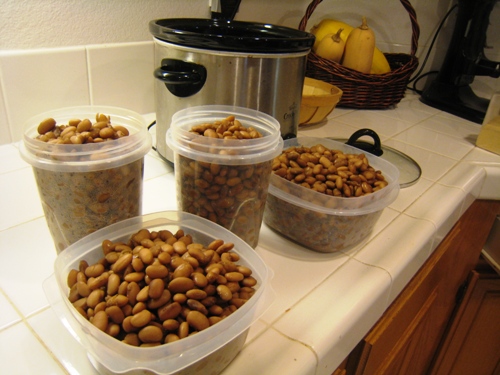 Jenn@frugalupstate is hosting a frugal foods series. Each week she hosts a carnival of recipes featuring a frugal ingredient. So far, she's covered eggs and tuna. This week features beans.
Beans are a great source of protein and fiber. They are also a great bargain, so far. (Who knows what the commodities market will do to us next week?) Part of the challenge with bargain food shopping is being able to turn it into something your family will eat. Over the years I've performed some trial and error experiments with beans. My family decidedly does not care for lentils, so I don't even try. Black beans are a top favorite, as are pintos.
Personally, I prefer buying canned beans for 44 cents/can at Walmart, as opposed to dried. I can never get dried beans to cook tender enough. Plus, gotta have some pathway to convenience.
Here are some FishFam favorite meals that feature beans (black or pinto) as a main ingredient.
Bon Appetit!
Beans and Rice – I make this several ways, but the preferred method lately is black beans and Mexican rice with any of the following toppings and sides: grated cheese, kernel corn, chips, salsa, sour cream, shredded lettuce, sliced olives, leftover taco meat, etc
Burritos – I assume this is self-explanatory. Rice, beans, cheese, lettuce, salsa, sour cream….
Tostadas – my version of refried beans (mashed pintos doctored up with spices), topped with lettuce, cheese, salsa, guacamole, and sour cream
Black Bean Quesadillas – Make a bunch of quesadillas at one time in the oven: flour tortilla, grated cheese, black beans, some green chiles, another tortilla. Heat until cheese is melted and tortilla is a little crisp. Yum! Serve with salsa, sour cream, and guac, if you can.
Obviously, not all these toppings (like avocados for guacamole) are budget toppings all the time. We just use what we have and try to add some fun ones when we can.