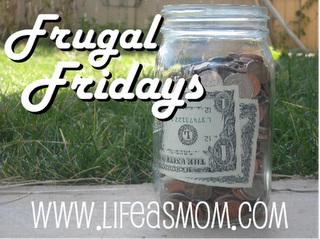 A little over four years ago my husband and I woke up and smelled the debt. We were over $16,000 in consumer debt, not counting the two houses we owned. Thankfully, God made us brave enough to do something about it — and gave us some tools and much graciousness to repay our debts and turn over a new leaf.
We talked about it this week on date night. How thankful we were to have changed, to have been changed. And now to live debt-free? Weird. Crazy. Wonderful.
One of the tools that God provided us with in our climb out of the hole was Dave Ramsey. I know, folks either love him or hate him. I love him. (He even gave me a high five once.) His straight-shooting, no nonsense, kick in the pants was just what we needed to reform our ways.
I've read The Total Money Makeover twice now and been so encouraged in how to look at money.
EntreLeadership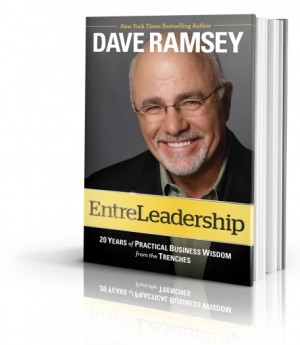 This week I added a new Dave Ramsey book to my shelf. It's called EntreLeadership, and I'm so eager to dig in! I'm no high power CEO, but I know that it's always good to learn from others who've enjoyed success in their jobs.
Many of those tips and tricks transfer to motherhood. Yes, yes, they do. Last year, I read The One-Minute Manager, a book designed for, well, managers, but it turned out to be a great book for me as a manager of my home and family.
Not only am I raising future men and women, but I also live and work in the world. As a work-at-home mom, I still have so much to learn. In fact, this book is really written for everyone who works, to give you tools, inspiration, and a little bit of know how in the world of work and working for yourself.
I'll let you know next month what I got from it. In the meantime, want to read along with me?
Win a copy of EntreLeadership
This week, Dave is giving ten copies of his new book to LifeasMOM readers.
To Enter:

Leave a comment telling me why you'd like a copy of this book.
This giveaway will be open until Sunday, September 25, 2011 at 8 pm PST. Winners will be chosen at random and notified via email. Please respond within 48 hours to claim your prize.
THIS GIVEAWAY IS NOW CLOSED. CONGRATS TO THE WINNERS: kristinaberry@, begintocraft@, krawlandsarey@, alyssaberryman@, thegentlemom@, editor@am, frederickson_sarah@, mbskipworth@, tabernardy@, the6blackwells@
Disclosure: I received a review copy of this book.