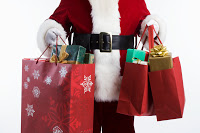 Tomorrow, the Day after Thanksgiving, also known as Black Friday, is one of the biggest shopping days of the year. And in hard economic times, retailers are desperate for your business. Don't be too free with your greenbacks.
Here are some things to consider before you head out tomorrow.
1. Dave Ramsey's List of the Top 10 Christmas Shopping Mistakes You Could Make – Don't do them! Read and consider each one carefully.
2. Advent Conspiracy – Think about this video and how you can "worship fully, spend less, give more, love all."
3. Read this article about Decking the Holidays: Conquering the Chaos to Enjoy a Simpler Season. It's some of my own brainstorms and shortcuts to make life easier this season.
Got a good idea or link to share about good stewardship this season? Please share it!