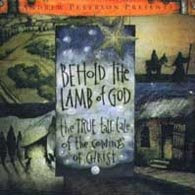 FishPapa is a musician. He would say that he only plays guitar, but, in actuality, he comes from at least three generations of men who can play piano magnificently without any training. I don't understand it. He, his dad, and his grandfather can all sit at the ivories and make them sing, "by ear."
I'm as un-musical as they come. So I am very thankful that my husband is gifted in this way to make our family a little more well-rounded.
(I make us well-rounded in the kitchen.)
Since I'm married to a music man, I get to benefit from some great tunes. Several years ago a Christmas CD fell into our hands that we absolutely love. It is called Behold the Lamb of God by Andrew Peterson. The album tells the story of Christ,
Gather round, ye children, come
Listen to the old, old story
Of the pow'r of death undone
By an infant born of glory
Son of God, Son of Man
Gather round, remember now
How creation held its breath
How it let out a sigh
And it filled up the sky with the angels
Son of God, Son of Man
Last winter FishPapa and I had the great privelege to attend the Behold the Lamb of God concert, featuring Andrew Peterson, Bebo Norman, Sara Groves, and Andrew Osenga, as well as others. It was fantastic – beautiful music, following HIStory.
From Creation to the Incarnation and the Cross, the entire Bible is about Jesus. The Old Testament is all about Jesus. This is told through music in a beautiful way.
The music is moving and the presentation powerful, meant to point you to Our Lord, not the perfomers. At the standing ovation, Andrew led the audience/congregation in O Come, All Ye Faithful. I found myself lost in that sweet refrain. When I opened my eyes, the cross at the front was illuminated and the performers were gone. What a magnificent way to end it!
It was also a magnificent way for our family to enter the Christmas season. Yes, parents set the tone for the month. It helped these FishParents to grasp the greater meaning of the holiday and lead our children accordingly. I cannot recommend this album or the concert enough. Nuf said?
Today's giveaway features a copy of this fantastic, wonderful, beautiful album, courtesy of Andrew Peterson. I wish you could all win it! But, until I'm out of debt and "living like no one else," you'll have to be content with trying to win it.


Simply leave a comment on this post, telling us the name of your favorite Christmas album. One winner will be drawn at random on Saturday at noon.