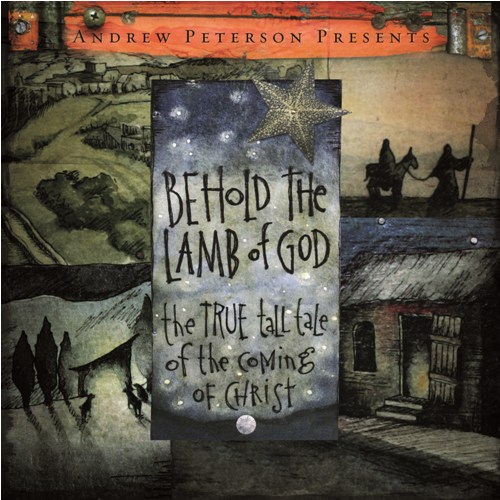 Several years ago — when we were in the throes of debt and disappointment — FishPapa and I attended a Christmas concert on Thanksgiving weekend. We didn't really know what to expect, except that we knew the music being played. We owned the album, Behold the Lamb of God, by Andrew Peterson.
The concert itself was amazing. There were no flashy costumes or elaborate props. There were no actors. Just real people with real voices and impeccable musicians.
The lyrics and music of this album tell "the TRUE tall tale of the coming of Christ." From Genesis through the Bible in its entirety, the story unfolds, showing how Jesus is in it all. Jesus is the WHY and the who, what, and how of a life well-lived.
And attending that concert was such a poignant reminder to us that no matter our circumstances, Jesus is the Great I Am. And how blessed we are to know Him.
The Behold the Lamb of God album is a tradition in our family as it is for many others, just as Andrew Peterson recounts in this video interview about his reasons and heart for this project:
Singing these songs together has become a major part of our life at the holidays.
(Actually, at any time of year. The music is soothing to me and one of the few I knew would help me relax. So, we played it in the delivery room when FishBaby was born two years ago. Yes, yes, we did. And, "Labor of Love" was the song she was born to. Yeah, how's that for wild and crazy trivia?!)
Good music at the holidays is essential. I think this album is a must-have in your Christmas collection.
This week 5 winners will each receive a copy of Behold the Lamb of God, original mix CD.

Ways to Enter:
There are three ways that you can enter this giveaway. Pick one, pick 'em all.

1. Leave a comment, telling us your favorite Christmas music memory.
2. Follow @AndrewPeterson and @FishMama on twitter and tweet about this giveaway. Then come back here and leave a separate comment with your twitter handle, telling me you did so.

3. Subscribe to LifeasMOM in a reader or via email and leave a separate comment, telling me you subscribe.
This giveaway will be open until Sunday night, August 1st at 8 pm, PST. Winners will be chosen at random and notified via email. You have 48 hours from the time I send the email to respond, otherwise I reserve the right to choose another winner. This giveaway is now closed. The winners have been notified via email.
– Disclosure: Andrew Peterson Music has provided these CDs for giveaway. I was not compensated to post positive comments. We genuinely love his work. Please see my disclosure policy for more information.