Being Prepared for Emergencies When Your Children Are in School
We are a participant in the Amazon Services LLC Associates Program, an affiliate advertising program designed to provide a means for us to earn fees by linking to Amazon.com and affiliated sites. We participate in other affiliate programs as well. For more details, please see our disclosure policy.
September is Emergency Preparedness Month. Life as MOM contributor JessieLeigh offers some great suggestions for preparing for emergencies while your kids are in school.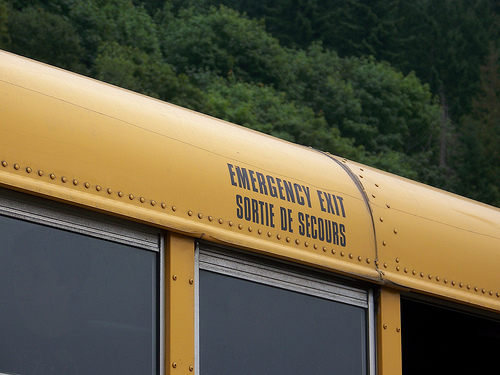 Bomb threats. Inclement weather. Fire. Sudden illness. Unfortunately, some emergencies happen when your child is at school, away from you. Rather than get yourself in a panic about it, why not take some simple steps to help insure that you and your child are both well-prepared for these unlikely, but possible scenarios?
Get your contact info out there.
Every single year, it's worth taking a few minutes to make sure everyone at the school who needs it has your accurate contact info. Three places that definitely need this information? 1) The main office. 2) The nurse's office. 3) Your child's classroom teacher.
Be sure to provide all your contact numbers (with the best one to reach you clearly noted), your email, and the numbers of at least two other people who could be contacted if an emergency arises. Also, provide numbers for your child's pediatrician, dentist, and your preferred hospital. These are all things that will shave valuable minutes off an action plan should there be a need for it.
Ask about the school's policy and procedures.
Find out how your school district handles bomb threats. Ask what will happen if there's a sudden weather emergency. Make sure you're familiar with the procedures that are followed in the event of evacuation or lock-down.
At what point can you get your child?
Will you be contacted in these events?
In what manner– automated call? Phone chain? Text? Email?
Knowing the school's policy will help you feel calmer should the need for evacuation or lockdown occur. It may also bring you some peace of mind to learn that they have a solid procedure in place.
And, in the event that they do not, you will know that it is an issue worth bringing to the attention of the higher ups!
Talk to your child about emergencies and expectations.
There's no need to frighten your little ones, but it's worth having a conversation about what to expect in the event of an unexpected crisis. Preparedness helps children feel more comfortable and confident.
Start a conversation after a fire drill or bus evacuation drill– What went well? What could have been better? Talk about whether everyone was quiet, followed directions, stayed to the right side of the hall, paid attention, etc.
This is both a natural way of showing interest in your child's day and reinforcing important skill sets to have in the case of emergency.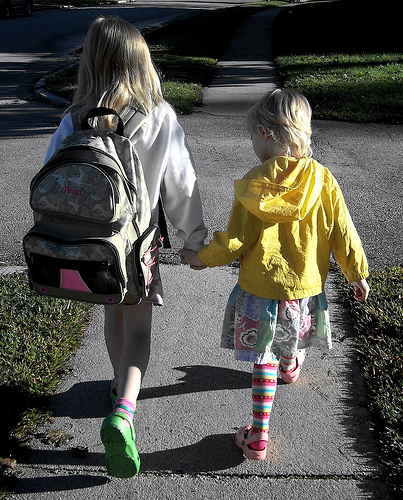 Send them off prepared.
Children needn't carry full first aid kits or gallons of water in their back packs, but I find it helpful (and comforting) to include a few "in case of emergency" items in their backpacks. For us, these include:
a change of seasonally appropriate clothing
a plastic bag (to be used for soiled clothing or in the event of illness on the road)
a small extra bottle of water
tissues
a mini-sized bottle of hand sanitizer
an individual packet of crackers or a granola bar
With these items along, I know my children have a few things that might bring them comfort and security for the brief time before I, or other professionals, can meet all their needs.
It's never fun to think about emergency situations, especially when they involve our children. It's even scarier to think about them occurring during a time when you're separated from your little ones.
By taking some simple, basic precautions and keeping lines of conversation open, we can help ensure that things go as smoothly as possible should the unthinkable happen.
Have your children ever experienced a school day emergency?
What helped your family at that time? What advice can you offer others to be more prepared?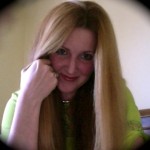 — A mother of three, including a 24 week preemie, JessieLeigh is a determined advocate for even the tiniest of babies. She can be found celebrating life's (sometimes unexpected) miracles and blessings at Parenting Miracles.