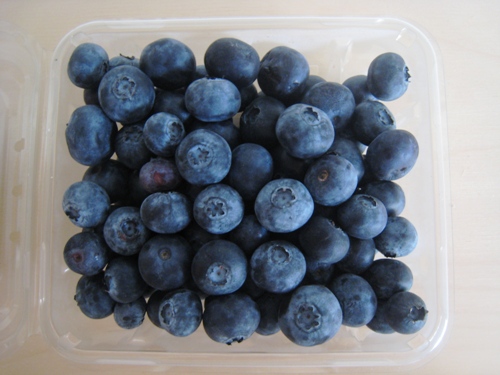 Berry season is beginning throughout the country. In
my old stomping grounds
, the local berry favorite was the
olallieberry
. Unfortunately, those don't grow in these here parts. But,
blueberries
do very well here on the Kansas-Missouri border. So, we're learning to adapt.
Here are three of our favorite recipes featuring blueberries:
Blueberry-Pineapple Smoothie
You can use flavored yogurt, but lately we've used plain for less sugar and lower prices. You can always adjust the sweetness with honey.
1 can sliced or chunk pineapple, chilled, juice included
2/3 cup frozen blueberries
8 ounces plain yogurt
1 pineapple can full of crushed ice (optional)
Blend well in blender.
Blueberry-Oat Coffee Cake

1 cup unbleached flour
1 cup whole wheat flour
1/4 cup quick oats
3/4 cup white sugar
2 tsp. cinnamon, divided
1/2 tsp. salt
1/4 tsp. ground ginger
3/4 cup oil
1 cup chopped nuts (optional)
1 tsp. baking powder
1 tsp. baking soda
1 egg
1 cup buttermilk
1 cup blueberries
Preheat oven to 350 degrees. In large mixing bowl combine flours, oats, sugar, 1 teaspoon cinnamon, salt and ginger. Blend in oil until smooth. Remove 3/4 cup mixture and combine with nuts and remaining 1 teaspoon cinnamon. Mix well and set aside. To remaining flour mixture, add baking powder, soda, egg, and buttermilk. Blend until smooth. Pour into greased 9 x 13-inch baking pan. Sprinkle blueberries over top. Sprinkle reserved nut mixture evenly over berries. Bake for 35-40 minutes. Cool before serving.
Blueberry Scones
Instead of using a bowl and pastry blender for the flour mixture-butter part of the recipe, I blend it in my food processor for about 15 seconds, then transfer to a bowl to combine with the wet ingredients.
1 cup unbleached flour
1 cup whole wheat flour
1/3 cup white sugar
1 Tablespoon baking powder
1/2 tsp. salt
6 Tablespoons cold butter, cut into cubes
3/4 cup heavy cream
1 egg, beaten
1 tsp. vanilla extract
2/3 cup frozen blueberries
1 Tablespoon cream
1-2 tsp. sugar
Preheat oven to 400 degrees. In large mixing bowl combine flours, sugar, baking powder and salt. Cut in the butter with a pastry blender until coarse crumbs are formed. The largest bits should be about the size of peas. Add the cream, egg, and vanilla and stir with a fork lightly. Stir in bluberries. Mixture should look "shaggy." Transfer to lightly floured work surface. Knead 2-3 times. Flatten gently into a round about 1 inch thick and 7 inches across. Cut into eight wedges. Separate the edges and place on greased baking sheet or on parchment-covered sheet. Brush tops with cream and sprinkle with sugar. Bake 18-22 minutes until golden and baked through.