Big Doings in May
We are a participant in the Amazon Services LLC Associates Program, an affiliate advertising program designed to provide a means for us to earn fees by linking to Amazon.com and affiliated sites. We participate in other affiliate programs as well. For more details, please see our disclosure policy.
See that guy? He saw his first baseball game last week and enjoyed it immensely. He also loved it that I filled that snazzy fanny pack full of fruit leathers and fortune cookies and gum — just for him. Little did he know, that was all the snacks I could find.
He's my youngest boy. So, in some ways, that makes him "my baby." He's sweet. and toothless. and about to be seven! Seven!?! His birthday is later this month — and oh my! does he have big plans. Oh yes, he does.
He takes after his mother. 'Cause I've got big plans, too.
Plans and Projects
:: Later tonight, I'll be sharing last week's giveaway winners. Stay tuned.
:: Next weekend is Mother's Day (don't forget!) as well as my blogiversary! So, I'm having a party this weekend. I hope you'll come. All kinds of fun party favors in store.
:: Since this weekend will be about celebrating and giveaways and such, I'm going to skip freezer cooking posts this month. I'm up to my ears in recipe testing right now for The Cookbook and not "freezer cooking" in my normal way. I hope to be back next month.
:: Booking It will be next week on the 10th and 11th. Join us as we talk about our recent good reads. The "assigned reading" is Finding Your Purpose as a Mom by Donna Otto. I must confess that even though this is a reread for me, it's been hard to get into it. I'm hoping that changes. If you're in the same boat, I suggest tackling the first section about how creating a great home starts with you. That will give you some good food for thought. Meanwhile, I'm enjoying my free choice selection, Emma.
:: At the end of the month I will turn 39 — for the first time! I'm looking forward to many more 39th birthdays. 😉
:: The Eat Well, Spend Less series was such a smashing success. I so enjoyed learning from the eight other bloggers involved and sharing strategies for saving money on food costs. If you missed it, scroll through the archives. And if you're hungry for more, never fear. We're cooking up more good stuff to share on a monthly basis. Wait for it….
Get Your Summer Survival Guide!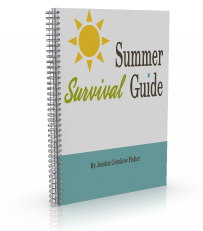 And in case you missed it, the Summer Survival Guide is here! With the help of my assistant and little sis, I've put together a guide book for family fun this summer. You can read more details here.
I hope Spring has sprung where you are — and that you're staying safe from severe weather.
What are YOU doing this month?