Birthday Cake Round-Up & A Dave Ramsey Cake
As an Amazon Associate I earn from qualifying purchases. For more details, please see our disclosure policy.

Today is the day! Time to share what fun and creative cakes you've made for your family. Thank you to the ladies who sent me photos of their family birthday cakes. How fun! Many sent in more than one cake, but in the name of space, I've just been able to post one per person. I just love seeing what y'all create!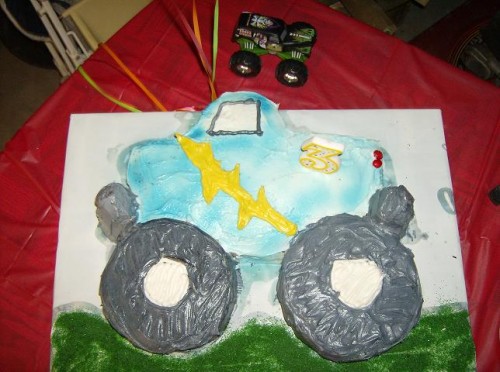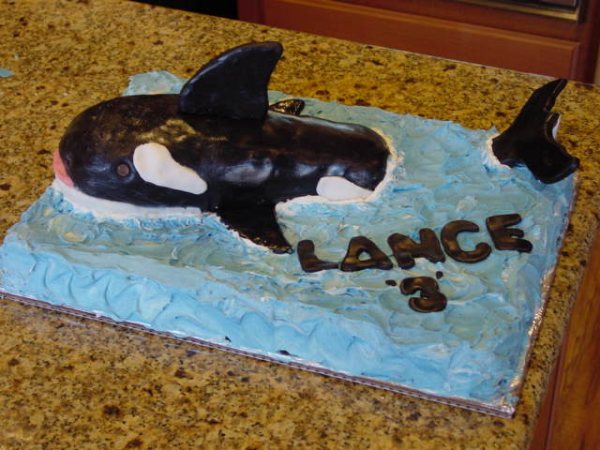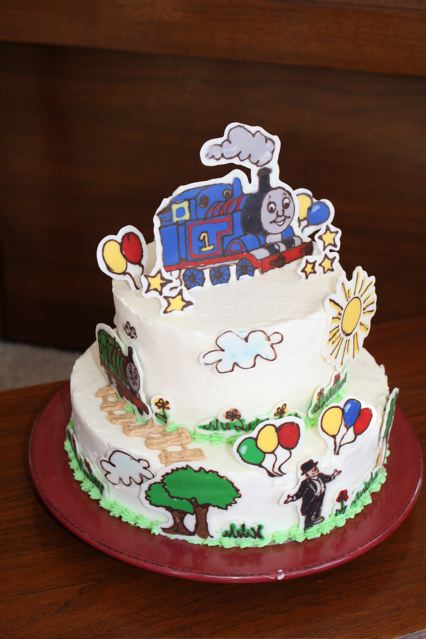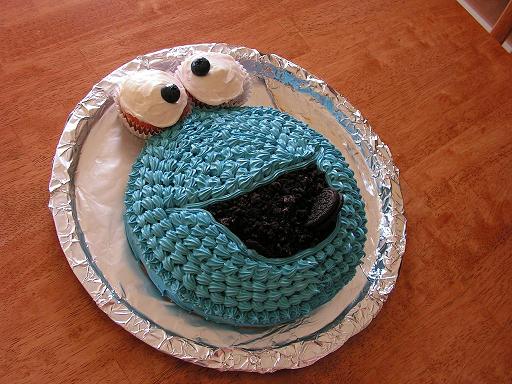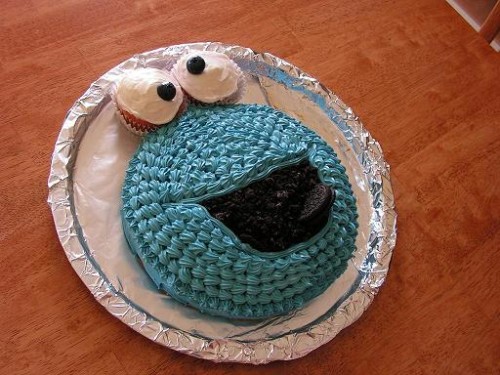 Our last family birthday was in November, so instead of sharing one of ours, I asked y'all to challenge me to make a cake of your choosing. Oh my!
But, first a disclaimer. As with any "theme" cake, if someone doesn't know the theme, he might not understand the cake. For example, if you don't play with Lego Bionicles, you would have no idea what in the world this cake was about. Likewise, if you don't know who Dave Ramsey is, then you're not going to understand the rest of this monologue about my cake. I suggest you visit his website or read my series on how we got out of debt. That will illuminate you immensely — on money, life, and my cake.
I must say, y'all certainly stumped me with your Dave Ramsey cake theme. I drew several cake designs on my shower wall over the course of a week before I settled on one that I thought I could pull off. And then, I'm not sure I did. It always looks so much better in my mind than it does in real life. But first, some history….
I first thought of a money pit and little Playmobil people digging themselves out of the hole. But, then there was the issue of money and how could I craft itty-bitty money to match the scale of the people? And it reminded me of the mud-wrestling cake of yore.
Then I thought of a debt snowball and little Playmobil dudes pushing a popcorn ball up the hill. But, then I knew there would be that issue of money and how would a snow scene really convey money and getting out of debt?
Then FishPapa and I put our heads together. We were talking about what's been on our mind and in our pocketbooks as regards Dave and "the total money makeover." It made sense to make a cake on one of the biggest changes he prompted in our lives. So, I finally settled on this: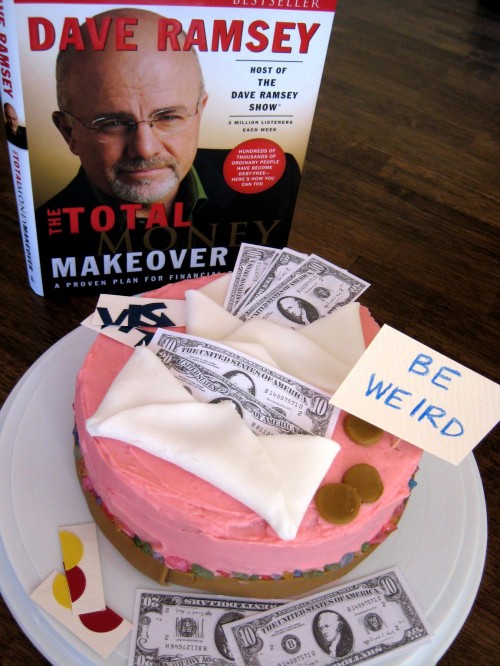 The Dave Ramsey Cake
If you've been reading here awhile, you know that we've been working on going back to an all-cash system. It used to be our only method of operation in our efforts to get out of debt. But, by the end of last year, the debit card had replaced good old greenbacks. We know from experience that plastic doesn't hurt as much as paper. We feel it more when we have to hand over cold hard cash, and therefore, we spend less.
Seeing as the frugal blogosphere has been abuzz with Kelleigh's envelopes, featuring envelopes on the cake only made perfect sense. Only hers are way cuter than mine.
I can't wait to see what cakes you've made!