Join us next week when we share all kinds of creative birthday cake ideas, including a hockey cake.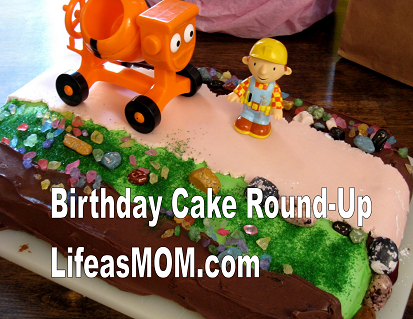 Next week for Ultimate Recipe Swap we'll be sharing creative birthday cake ideas! So, get your cake posts ready. We've done this for, well, a long time now. I think this is the 8th swap. (We do two a year.)
You can browse the archives between now and then, but be sure to come by next Thursday and share  your birthday cake ideas! New readers might be interested in seeing the cakes that Life as MOM readers "challenged" me to create.
Round-ups of years past
I suppose I should have opened the floor for a cake challenge again this year. But, hubs' birthday is Sunday, so I've got a challenge of my own as I've become a hockey wife and mom over the last year. Last year his our sports obsession was disc golf, so I surprised him with a disc golf birthday cake. This year it's hockey.
Could there really be two more different sports (and cultures) in the world? LOL!
Side note: FishPapa has always, ALWAYS loved hockey. Definitely a favorite sport. But, he didn't think he would be able to play. He tried this past Spring, and yes, indeed, he can play. Apparently, while I'm dreaming of France, the guys are dreaming up a trip to Montreal (and hockey arenas). It's almost the same thing.
Stay tuned for next week when I share our LA Kings Hockey Cake.