One of the joys and challenges of being a mom is celebrating the milestones of your child's life: his first steps, first words, school days, and, of course, birthdays. One of the special things that we do in the FishFam is celebrate birthdays with a fun and festive birthday cake. It's more fun to make it ourselves and it costs a lot less than a bakery cake, too.
I've gotten a little cocky in my old age and think that I can make a cake out of any theme my kids throw at me. I mean when your little girl asks for a Pink Bob the Builder Cake, whaddya gonna do?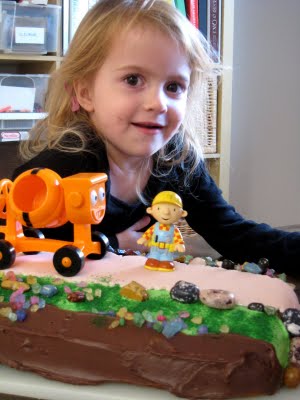 When my kids have stumped me for a theme, I've turned to the internet for inspiration. And how fun it is to swap creative birthday cake ideas with you all! Last year I hosted two Birthday Cake Round-Ups when I asked readers to challenge me to a cake theme. And did they make me do my homework to create a Fancy Nancy Cake, a Cake depicting Breakfast, and a Drive-In Movie Theatre Cake! I had to do some research on at least two of those cake themes.
This month I asked you all to put me to the test and yes, you delivered. Oh my! It was close, Dave Ramsey and Mr Potato Head were neck and neck for awhile, but in the end Dave won!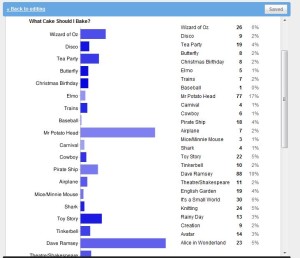 Admittedly, Mr. Potato Head may have been the easier cake theme to pull off, but the people have spoken. Come back on Thursday to Ultimate Recipe Swap and see what I end up making. Just for the record, I am not making a bust of Dave Ramsey. No, ma'am. But it will be a cake inspired by the personal finance coach who helped us get out of debt.
But, I want you to show me your CAKES! So, post them on your blogs and bring the links here on Thursday. It doesn't need to be fancy — it doesn't even need to be a cake, per se. Share your birthday desserts with us! If you don't have a blog, send me a photo of your cake to lifeasmom (at) sbcglobal (dot) net and I'll feature it in my post on Thursday!
Everyone who participates via comment, photo, or link will be entered to win a set of Wilton UltraGold Bakeware. I'll tell you more about it on Thursday. In the meantime, dig out those great photos of kids and birthday cakes!