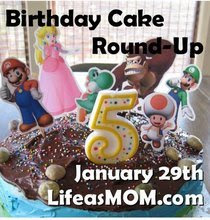 Thank you so much for making the Birthday Cake Round Up a screaming success. I appreciate how you all participated and spread the word to friends and family. I hope that you are freshly inspired and encouraged to bake your own the next time a celebration rolls around.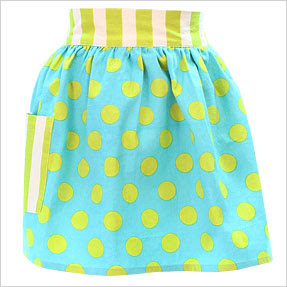 For your bday cake participation ShoestringHome sponsored a giveaway for this fantastic apron. Have you checked out that site? I am covered in drool — mine, not the baby's — just looking at all the cool stuff they offer.
As a consolation prize to those who didn't win, Shoestring Home is offering a complimentary Sally Russell oven mitt to anyone who purchases an apron over the next week – while supplies last. Simply write a cake-ish message in the order instructions box, like, "Homemade Birthday Cakes Rock!" and specify your choice of oven mitt (there are two to choose from – while supplies last).
The winner of the Sally Russell apron is April who said
My cake decorating consists of a 9×11 pan covered with canned frosting or if my mom will whip of butter cream frosting I use that. I am simple gal. My family is not big on cake so. . .

I do love the creativity I've seen here though. Especially the ladybug. My favorite.

February 3, 2009 9:24 AM
April, drop me an email with your mailing address.
Thanks for playing, everyone!