Birthday Traditions To Make Your Child Smile
We are a participant in the Amazon Services LLC Associates Program, an affiliate advertising program designed to provide a means for us to earn fees by linking to Amazon.com and affiliated sites. We participate in other affiliate programs as well. For more details, please see our disclosure policy.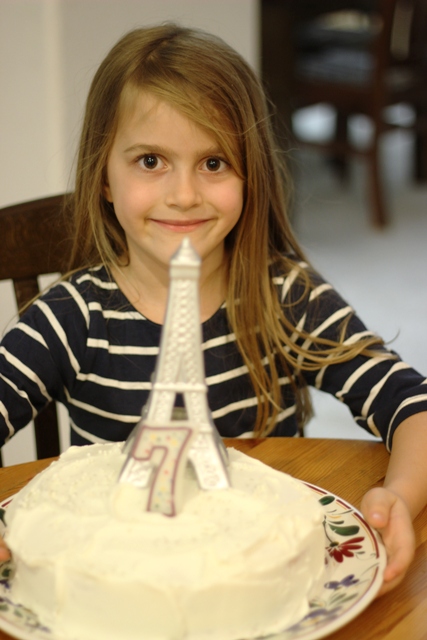 Our family is currently in the midst of Birthday Season. We have four birthdays take place in about three weeks' time. It gets a little crazy around here. And my birthday cake mojo definitely gets a workout. But, it's good times, nonetheless.
Here are some birthday traditions that we've found to be really fun:
A Pinata – Make your own and feel free to fill it with granola bars, fruit leathers, and stickers instead of candy. (Making a pinata is really not hard. Promise.)
A Fun Cake – You can totally do this! Throw some candy and toys on the cake to match your kid's theme and you're good to go. Consider: a Bob the Builder birthday cake, a Pokeball cake, a cake in the shape of a Lego Bionicle Thornax. How 'bout The Death Star? If I can do it, so can you! And don't forget the Number Candles.
A Favorite Menu for Each Meal of the Day – The birthday kid gets to choose the day's meals. We even let them choose one restaurant meal, budget permitting. As a child, Chicken Curry was my pick.
Balloons at Breakfast – A can of helium is usually around $20 and makes for lots of birthday balloons. One year I bought one, and it lasted for all the birthdays. It made for a very fun thing to wake up to. I tied them to the kitchen chairs that morning before everyone awoke.
A Family Field Trip – Sometimes instead of parties, we do special day trips as a family. We've done the Science Museum, the Swimming Pool, the park, and even Legoland. Price can range from extravagant to practically free.
Movie Night – This is a great way to end a birthday evening, especially if you've got popcorn. We recently screened Cloudy with a Chance of Meatballs – so fun!
How do you celebrate birthdays in your family?