Birthdays on the Cheap
We are a participant in the Amazon Services LLC Associates Program, an affiliate advertising program designed to provide a means for us to earn fees by linking to Amazon.com and affiliated sites. We participate in other affiliate programs as well. For more details, please see our disclosure policy.
Wondering how to economize and simplify at birthday time? Here's how we did it.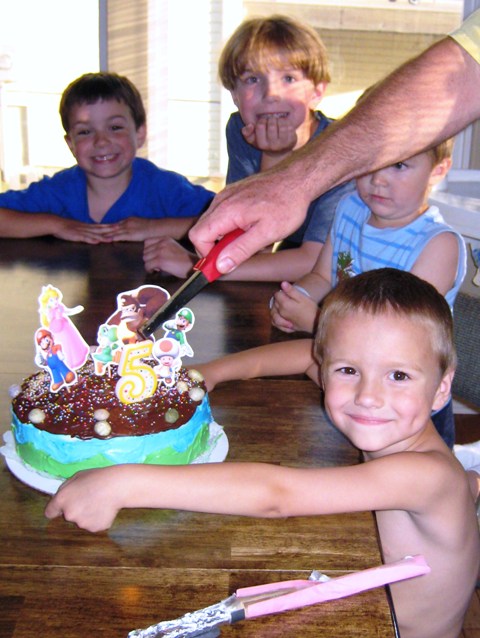 Someday you won't always hear me talking about our new frugal lifestyle. But, until we are debt-free, we are following Dave Ramsey's advice to "Live like no one else, so that later, you can live like no one else." And so it was okay not to do up the anniversary real big. Lord willing, there will be funds next year to celebrate our 15th in a more extravagant way.
The same goes for my birthday and those of the kiddos. In fact, I'm finding as we are halfway through the Big Birthday Season at our house, that it really doesn't take much money to celebrate in a meaningful way.
Birthdays are meant to be a celebration of the guest of honor and a time to thank God for him or her. But, children's parties can take on a life of their own if you aren't careful. I mentioned in a previous post that the budget has forced me to calm down around birthdays. This is a very. good. thing.
Not only does my pocket book thank me, but so does that little me that gets run ragged trying to make a theme birthday party into the Shindig of the Century. I'm much more able to enjoy the day and my child in the midst of "our new frugal lifestyle."
Here are some ideas to help you make the most of the day without spending most of what you have:
Set a budget.
When you make your monthly budget, make sure that you include birthday expenses, whatever extra you think you might need to purchase a gift, party supplies, and any special meals of the day.
Bake your own cake.
Rather than spending a ton of cash on a bakery cake, you can make your own cake for very little money. Generally speaking one cake mix and one can of frosting will do you. Without coupons, that should cost you a little over $2. The necessary eggs and oil as well as any other embellishments (candy, candles, etc.) can easily come in for another $2.
For our recent Indiana Jones Birthday Cake, I was able to get the cake ingredients for almost free (after coupons), and thereby justify spending 7 bucks from the bday budget for the new action figure to go on top.
Make your own pinata.
If you're having a party, a pinata is a very fun addition. And they are very easy to make, especially if you already have a well-stocked craft cupboard.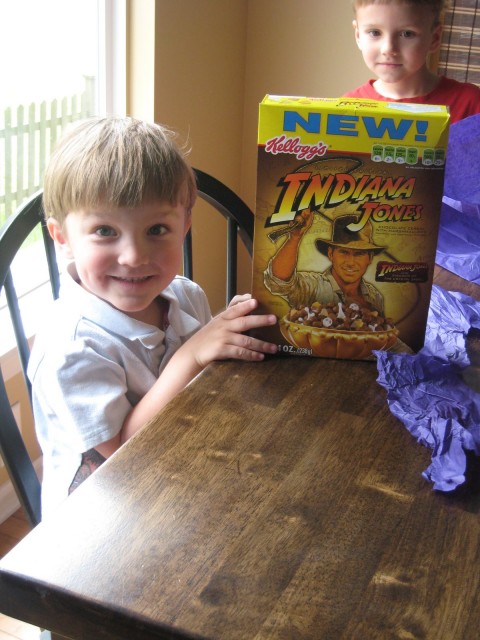 Make a special meal.
At our house the bday kid gets to choose the menu for the day. This year my four-year old chose Indiana Jones cereal, lunchables, and corn dogs. While these are, by no means, regular items on my grocery list, I'm happy to accommodate on a birthday.
My sweet sister ended up shipping us two boxes of cereal from CA since our stores had sold out. (That's what aunties are for, isn't it?) The lunchables were on sale and with coupons were almost free. The corn dogs were a "splurge," but between the regular grocery budget and the birthday budget, it worked out just fine.
Remember that your child doesn't need a lot of toys.
You probably are tripping over way too many already! That birthday budget has a way of being spent three times over. Since we had allotted $50 for the occasion, it stuck in my mind that I could spend 50 bucks on his present. Whoa Nellie! That ain't so! That budget needed to go for extra food expenses, cake topper, and an outing. And remember $50 worth of Legos is a whole lot of sore feet in the dark of night. So, as I stood in the Lego aisle of StuffMart, I had to use some self-control.
His brothers wanted to spend some of their money on his present, so we pooled our cash and for $20 got him an Indiana Jones Lego that made his eyes light up! An additional $6 got me six water pistols and some knock-off crocs.
Plan an outing.
We chose to forego parties this year as they tend to mushroom into very Expensive Extravaganzas. Instead we invited friends to visit the local petting zoo with us. Entrance is free. Each family brought their own picnic lunch. The weather was beautiful and my bday boy was very pleased.
This particular venue features an old-fashioned mining camp. They sell bags of "rough" that kids can sift in a water trough to "pan for gold" and local gemstones. This easily fit into the budget. The kids considered it a splurge, so they were super happy.
The day was a full one. My boy was a happy one. It didn't seem like much to my modern mind, but my kid was more than satisfied. I was totally surprised that we even came in under budget.
Birthday spending

Cake ingredients and topper $9
Extra groceries $5
Gas spent trying to find Indy cereal $2
Lego, crocs, water guns $16
Mining bags of rough $8

Total spent $40 (not including tax) = UNDER BUDGET!
My boy had a fabulous birthday, with special thanks to an aunt. It was a great day and we spent very little money.
How do YOU curb birthday costs at your house?