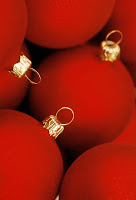 THIS GIVEAWAY IS CLOSED.
Last year was a pretty tight year financially for us. As I mentioned before, we realized some new ways of thinking about money which have really benefited our family. We learned to cut back and get by with less. And life has proven to be just as rich and full as it was before.
But, since I love Christmas and all the accessories, it was a little tough come holiday time. We did without things that I had previously thought were "necessities." No Christmas cards??! No trips to the movie theater?? No gifts for everyone we ever met and his brother, too?
Yet life went on.
And we enjoyed the season.
We had less stuff, but I had more joy about it. Hmmm….perhaps there's a connection here?
One thing that helped was doing a little advance reading to prepare my mindset. A Hundred Dollar Holiday: The Case for a More Joyful Christmas as well Unplug the Christmas Machine were both really helpful in thinking about ways to simplify and enjoy the season more.
There really is a war out there. A war for your money. A war for your loyalty. A war for your peace of mind. Ok, maybe the marketers aren't purposefully after your peace of mind. But, they do spend 364 days of the year developing ways to convince you that you need to have a Wii or a Tickle-Me-Elmo or whatever the newest fad is this year waiting under the Christmas tree.
Your peace of mind is one of the costs to getting sucked into the commercialism of the Christmas holiday. And you have be prepared to fight this war. Otherwise, you'll stress yourself silly in December and still be paying for all those Christmas "have-to-haves" come this time next summer.
You must be prepared for the onslaught of commercialism!
In that vein, I am excited to share a great resource that I just came across, the book, Celebrate Simply: Your Guide to Simpler, More Meaningful Holidays and Special Occasions by Nancy Twigg.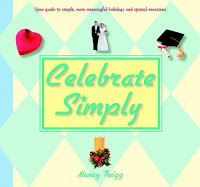 In a down-to-earth writing style, Nancy presents practical and inspiring suggestions to simplifying all your celebrations. This book provides clever ways to
Give meaningful gifts that are within your means
Add spiritual significance to your celebrations
Undo a history of holiday and special occasion overspending
Extend hospitality without the stress of trying to impress guests
Give one of the most precious gifts ever—the gift of your time
As my good buddy Dave says about the book, "Not only will Celebrate Simply teach you how to save money, it will also show you how to enrich and add meaning to your celebrations as well."
It's important to do some serious thinking and planning about how to make this Christmas thing more joyful. And I think this book will help you do it.
Nancy has very generously provided an autographed copy of the book to one LifeasMOM reader! Yeah! In order to keep this first giveaway simple, just leave a comment on this post. Contest closes Tuesday night at 6 pm CST. The winner will be chosen at random.
THIS GIVEAWAY IS NOW CLOSED.