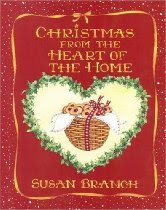 Years ago I came across a cookbook that was as beautiful to look at as the recipes were delicious to eat. Its pages are now tattered and stained, as all good cookbooks should be.
The author, Susan Branch quickly became one of my favorites. A self-taught artist, she captures on paper simple and quaint images, such as picket fences, flowery cottages and girls in sunhats. Her cookbooks are works of art. And her art has expanded out of her cookbooks to include stationery, notecards, stickers, fabric, and so much more.
One of my favorite Christmas resources is her book, Christmas from the Heart of the Home. It is chock full of whimsical holiday images and great holiday celebration ideas as well as recipes for appetizers, beverages, side dishes, main dishes, desserts (lots of cookies!), and breakfasts. My favorite, that is permanently bookmarked is her recipe for Butter Cookies. They are absolutely delicious.
If you're in the market for a great Christmas cookbook, this one is a winner!
Four children ago, I had the privelege of meeting Ms. Branch at a book signing and can testify that she is as gracious as they come. What a beautiful person! And true to that graciousness, Susan Branch Studios has generously offered a copy of this book for today's giveaway. Be sure to come back later for our virtual Cookie Exchange and to have a chance to enter!