Book Review: Houseworks
As an Amazon Associate I earn from qualifying purchases. For more details, please see our disclosure policy.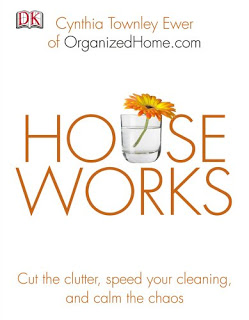 I found a great, all-purpose, get-your-act, or at least your house, together, kind of book. It's called, Houseworks: Cut the Clutter, Speed the Cleaning, and Calm the Chaos by Cynthia Townley Ewer. Talk about a great find!
Mrs. Ewer is affectionately known as CEO on the website, Organized Home. It stands for Cynthia Ewer, Organized. And that, she is.
I first discovered OH back when I had one kid, lived in a remote country location, and surfed the web via dialup. Wow! That's a long way from six kids in the city with wi-fi on a laptop, isn't it? Well, despite the primitive nature of my internet capabilities, I was a loyal OH reader, visiting the site and the forums everyday for new ways to get my life as MOM in order. I was infinitely helped there. So, you can bet I was pleased when I saw that CEO wrote a book.
And it is a great one. It walks you through all the steps to organizing your home — and your life, complete with vivid, colorful photographs. This is a basic "go-to" manual for setting up a household notebook, developing checklists and systems, decluttering, cleaning, basically everything you need to do to get your household in order. See if your local library has one. But, if you've got a book budget, this one is a keeper.
Two Thumbs Up from the FishMama!