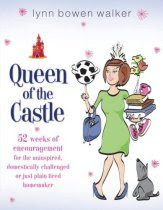 Recently the book, Queen of the Castle by Lynn Bowen Walker, fell into my hands. It is aptly subtitled, "52 Weeks of Encouragement for the Uninspired, Domestically Challenged or Just Plain Tired Homemaker." Well, what mom doesn't need encouragement, inspiration, domestic training or a shot in the arm?
(Really, SuperMom does not exist, and we all need help. But that's for another post….)
The author has a journalism background and a great sense of humor. She's a full-time mom who's kept her hand in writing. Yet, she is not one to say that she has it all together. Quite the opposite, in fact. She is quick to admit her weaknesses, which I think is an encouragement in itself. We moms, we're in this thing together!
Set up for 52 weeks of reading, this book is not one to read at one sitting. It actually reads a little like a large compilation of magazine articles. That's no surprise since Ms. Walker's genre is the magazine. But the book is chock full of little tidbits that you can read over a bowl of cereal and get inspired for the week at hand. There are suggestions for family fun for every time of the year as well as practical advice for managing a home. Plus, there's lots of chocolate recipes. Something we've been discussing around here lately.
This book is definitely worth your time.