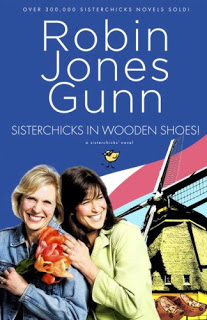 Read any good books lately?
A couple years ago I stumbled upon a book at the library called SisterChicks on the Loose! by Robin Jones Gunn. It was first in a series of books about "SisterChicks".
What's that? A sisterchick is "a friend who shares the deepest wonders of your heart, loves you like a sister, and provides a reality check when you're being a brat." I love that description. Even more, I love the women who have been that for me over the years. While my husband is my best friend, it's a wonderful blessing having girl friends who understand the parts of my life that he doesn't. And poor guy, there's probably a lot of confusing parts to me!
These books are definitely "chick books." That first book had me laughing out loud throughout. You know those moments when your husband says, "What?" And you just can't explain it other than to say, "Is a chick thing." It's that kind of book. An easy read, entertaining, and a great diversion from the busyness of life.
So recently, when I was approached to review the newest in the series, SisterChicks in Wooden Shoes, I jumped at the chance. Quite honestly, it had been awhile since I'd read something more substantial than a blog post or a magazine article. It was good for my brain to get on a longer train of thought.
SisterChicks in Wooden Shoes tells the story of two women, penpals since childhood who've never met. Summer is a Midwestern mother of six who's never traveled anywhere. Mother of two, Noelle moved to the Netherlands as a teen, married a Dutchman, and adopted her new country as her own. The two finally meet face to face when Summer receives an irregular mammogram report. Her mother had died of breast cancer. Convinced that her fate holds chemo and radiation, Summer decides to seize the day and do what she's always wanted to do: meet Noelle. Thus, an impromptu trip across the globe. What follows is a heart-warming story following their week of exploits together and the hard stuff that they have to tell each other.
I laughed out loud at these mamas and their antics, though not as much as I had hoped. The story is engaging, and I wanted to know what happened next. As Summer is a novice in international travel, the author shares all the little tidbits of Europe that Summer learns. This is good if you've never been nor ever studied European history. But, it can seem boring at times if you already know the information being imparted.
While I enjoyed the bones of the story, the language and dialogue were a little "cheesy" at times. But, you know, cheese is good. And it ranges in flavor and depth. Sometimes you want a rich, earthy Gorgonzola, and other times, plain old American is good enough. So, cheese is not necessarily a bad thing. Overall, this book was a fun ride.
Have you read SisterChicks in Wooden Shoes? I'd love to know what you thought.