Book It! The Total Money Makeover
As an Amazon Associate I earn from qualifying purchases. For more details, please see our disclosure policy.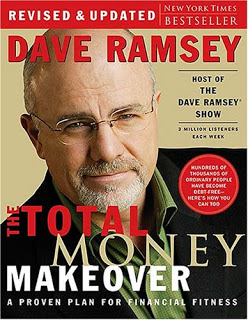 About a year ago my husband and I got a major wake-up call. We'd been living a pretty easy lifestyle, not too extravagant, but not overly frugal. We paid all our bills on time and kept track of what we spent. We lived month-to-month like most people and thought that debt was a "tool" that needed to be used wisely. So, since frequent flyer miles are so tempting, we charged everything, but made sure that we paid it off every month. Life went on. But, without our realizing it, our cushion called Savings had a slow leak. When we faced a few weeks of temporary unemployment, the cushion was completely flat. And we had to change — a lot.
Enter Dave.
We had heard about Dave Ramsey before, but never really gave him our complete attention. Last summer we started listening to his free podcast and/or radio program and then read the book, The Total Money Makeover. What an eye-opener!
The Ramseys were millionaires and lost it all due to speculation and poor choices with money. They've earned it all back and now have a lesson to teach the rest of us. Not only does Dave dispel myths and misunderstandings about money, credit cards, debt, and investments, but he also gives concrete, easy-applied solutions to money problems. The book is subtitled, "A Proven Plan for Financial Fitness." And that's the truth!
We were skeptical at first. Shouldn't we pay off the highest interest debt first? Shouldn't we leave the smallest debt for last? Shouldn't we….? But, we realized that he was the millionaire, and we weren't. We might as well give it a try. And Dave's plan has proven itself in our lives.
A year ago tomorrow marks the day we stopped using credit cards and started paying cash for everything. We set up an emergency fund, step one in Dave's Baby Steps, and we were on our way. The very idea of letting cold hard cash (rather than a piece of plastic) slip through our fingers at Taco Bell, StuffMart, etc. made us hold on to our money a little more closely and really think through our purchases. We've grown in frugality, and our lives have remained just as rich as ever. In fact, our life is better today than it was a year ago. Not only have we stayed solvent, keeping current with all our bills, on a fluctuating, self-employment income, but we have already paid off over $10,000 in debt! This figure includes paying off our truck — early — and completely eliminating car payments. While frugality takes a little work, we have so much more peace in our lives and our home as a result of this wake-up call. Thank you, God!
So, this is a MOM blog, not a money blog, right? Well, as parents I think we have the great opportunity to bless our kids and grandkids, and on, and on. Learning good money habits for ourselves will help them have good money habits in the future, and Lord willing, that will continue for generations. Plus, if we are more peaceful about our money situation, we will be more Joyful MOMS.
Whether you are good, bad, or ugly with money, I highly recommend your reading this book. You are bound to learn something to help you and your family.