Book It! WomenHeart's All Heart Family Cookbook
We are a participant in the Amazon Services LLC Associates Program, an affiliate advertising program designed to provide a means for us to earn fees by linking to Amazon.com and affiliated sites. We participate in other affiliate programs as well. For more details, please see our disclosure policy.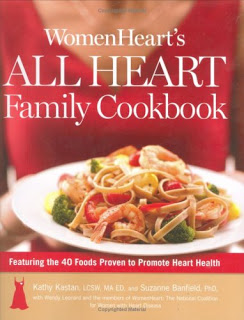 I love a good cookbook. Over the years I have collected quite a few. (You know me, the glutton? Of course I've collected quite a few!)
Anyway, I also like books that teach you something. These are books that aren't just a conglomeration of recipes, but that also impart knowledge that can transfer to your eating and cooking. That's one reason why my bread machine book is one of my favorites. It teaches me all the ins and outs of using a bread machine so that I can adapt other recipes to that kitchen appliance.
This book, WomenHeart's All Heart Family Cookbook is that kind of book. Produced by WomenHeart, the National Coalition for Women with Heart Disease, this book is about equipping women and their families to eat and live better. The introductory section covers all the basics about heart health, the types of heart disease, the risk factors involved, and what we can do to prevent it.
And while I may not be at high risk of heart disease today, (that benchmark is age 55 for women), it behooves me to start thinking and changing some of my not-so-great habits today – before I have a problem. Furthermore, as FishPapa is over 45, the age at which the risk of heart disease rises in men, I want to be looking out for his well-being as well. And for that matter, it might be good for the whole family!
The first 74 pages of the cookbook are dedicated to explaining the benefits of 40 different heart-healthy foods and how they can help you. For instance, the section on apples discusses the benefits of the fruit (lowers total cholesterol, lowers "bad" LDL cholesterol, raises "good" HDL cholesterol, and lowers blood pressure) as well as which kinds of apples are best for eating and baking. Each section is like a mini-nutrition course on the ingredient as well as a cross-reference of the recipes in the cookbook that feature that super food. I found this very helpful.
The recipes themselves appear to be very doable for busy moms. While it's obvious that adaptations have been made to "healthify" your menu options, they call for regular pantry items. The one item that I saw that I don't regularly stock is whole-wheat pastry flour, but I know that is easily obtainable.
Some recipes that we'll be trying? Spicy Oven-Fried Chicken which features buttermilk, garlic, hot-pepper sauce, and flaxseed, the Peach-Blueberry Shortcakes, especially when our peach tree is in full production, and the Chocolate Almond Biscotti. Oh my!
But, more important than the great recipes is the great info to help me make wise choices in feeding my family.
Would you like to win a copy of this book? Three LifeasMOM readers will each win a copy this week. Go here for the details.