Booking It: April Update
As an Amazon Associate I earn from qualifying purchases. For more details, please see our disclosure policy.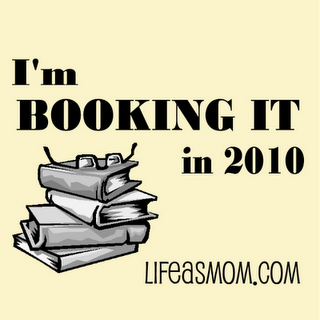 Lately our homeschool has been studying the pre-Civil War era, full of all sorts of teachable moments for me as a mom. I am honored to walk through history with my children and to answer their questions. I sigh with gratitude that they see the injustices of this time period.
They also gain perspective on their lives today. The other afternoon one of the recurring themes revolved around learning, books, and reading.
The kids were stunned to hear that Abraham Lincoln's education amounted to about one year's worth of instruction. That books were scarce in the US territories is something they can't quite grasp as they live in a home filled with books and regularly visit a library loaded with 1000's more.
That it was illegal to teach slaves to read and write hammered home what a tremendous blessing literacy is, one that young wilderness boys craved and one that lawmakers tried to deprive their fellow man from acquiring.
Reading is a necessary skill in this world. Reading is powerful. Reading is freedom.
And it's one that I take for granted all too often. And one that I don't use often enough. Being able to report two books read this past month has me a bit embarrassed. Certainly, it exceeds my original reading goal for the year. But, I guess I'm rethinking how I spend my time, and maybe I could read a few more good books. Here's to changing that next month!
In the meantime, I'll tell you about the books I did read.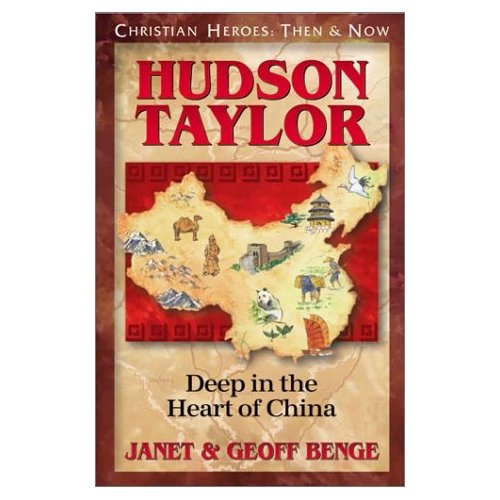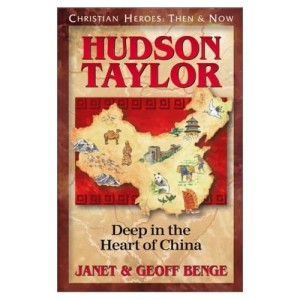 Walking through History with my Children
Hudson Taylor: Deep in the Heart of China is one of a series of books by Janet and Geoff Benge that recount the life stories of Christian Heroes. So far this year we've read about George Mueller, Adoniram Judson, and William Carey. I don't think I've finished a single of these read alouds without bawling my eyes out. The stories of these men, the hardships they faced, the love they had for God is moving and inspiring.
It was wonderful to read this particular book and learn how Hudson Taylor went against the grain of his contemporaries in missions. He wore Chinese clothes, ate Chinese food, and even grew his hair long  and died it black in order to assimilate into Chines culture . He was intent on sharing the gospel instead of prompting the Chinese to confuse his English culture with Christianity.
My three older boys listen to these books as I read aloud and we experience the adventure together. And often, one of them gets to practice his oral reading when Mama is too weepy. We are in the midst of another one, this time about William Booth, founder of the Salvation Army. It's amazing how fun biographies can be!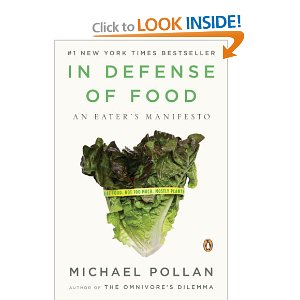 A Few Words for Food
The other book that I read this month has provided me with a lot to chew on, literally. As you know, I'm a foodie, so anything culinary-minded appeals to my tastes. In Defense of Food: An Eater's Manifesto by Michael Pollan explores the information we've been fed about health, nutrition, and food. Pollan makes the case that we've moved away from real food and real meals, replacing them with "nutritionism," adding nutrients to food products in the hopes that we can make something better than the raw materials that have typically made up the human diet.
It's an extremely thought-provoking book, demonstrating the spin that marketers and legislators have put on the status of America's health and the food we should or shouldn't eat.
I was already in the process of rethinking some of the ways that I shop, cook, and eat. This book kind of confirmed a lot of what I was already thinking.
While I haven't read extensively on this subject, I felt that for the most part, Pollan did an effective job of supporting his arguments. His chapter on the evolution of food was lacking in scientific evidence, however, something that stood out glaringly in comparison to the preceeding and following chapters which were heavily footnoted.
It was a fair amount of work to get through the middle of the book. But, once I got to the last third and his "algorithm for eating," I felt I was tracking with him pretty well.
His overall message: Eat food. Not too much. Mostly plants.
Makes a lot of sense to me. While I don't agree with everything he says, I enjoyed the book and felt like I learned a lot about food and US culture. I was also encouraged to keep on with our family's food goals for the year.
So…. read any good books lately?
Share what you've read this past month on your blog and bring the post link back here. Or, just tell us about your latest reads in the comments. I've just started a new book based on your recommendations (The Guernsey Literary and Potato Peel Pie Society) and I'm already hooked! Can't wait to tell you about it next month.
Feel free to use the button above in your post and please link back to www.lifeasmom.com so that your readers can know where the bookworms are congregating.