Booking It – August Updates
As an Amazon Associate I earn from qualifying purchases. For more details, please see our disclosure policy.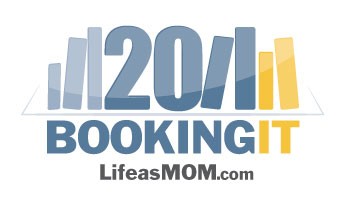 Are you Booking It this year? Yesterday we discussed the "assigned" reading of the month, The Help. Today we're talking about all the books we've read this month.
But first, can I wax eloquent about the Kindle?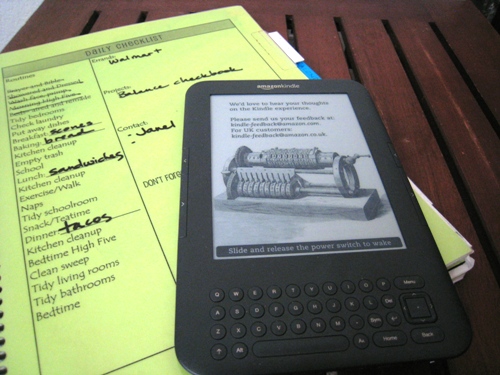 Truly, winning that Kindle months ago has changed my life. Well, at least my reading life. I find that reading is so much easier to fit into my day when I have a range of books within easy reach. An e-reader can hold so many books in such a small physical space, that you can lug a ton of books around with you without hurting your back.
The Kindle is also helping me provide reading material for my kids. When FishBoy9 runs out of library books, which he is apt to do within three days of our library trip, I just download a few classics to the Kindle for him to read in the interim. And last week when I was looking for books for our school year, I even found some of the books we'll be reading for free on the Kindle! Yeah!
The only thing that I'm not sure about is the price of the Kindle. I love the version I have which is the 4G. I won it by filling out a survey I received via email. However, to buy it would have cost me $189. I'm not sure if I love the Kindle that much. Yes, there are less expensive versions, but I'm not sure that it's worth the money. It does amazing things, to be sure, but so does the free library.
What I Read
That said I read three and 1/3 books on the Kindle last month, most of them for freeeeeeeeeee. I've made a point to download any interesting and free Kindle books that Money Saving Mom and Jungle Deals and Steals share about. In this way I always have free reading material at my disposal. But, I still like to have real books, too. Let's not lose our love of paper! OK, onto my good reads….
Yesterday I told you about The Help. Last night I watched the trailer to the movie version and can tell you that a girls night out is in order!
Other books that I read this past month:
Eight Cousins and the sequel, Rose in Bloom, by Louisa May Alcott – These are probably my favorites of the Alcott books — even if the heroine does end up marrying her cousin. (I know.) Last month when we were discussing Little Women, Carrie reminded me of these books, so I looked up free versions on the Kindle. I devoured them in a matter of days.
The books tell the story of orphan Rose Campbell who comes to live with her uncle and learns to go against the grain of the antebellum period in New England. She chooses authenticity over money and show. It's full of great lessons that have withstood the test of time.
The Real Food Cleansing Guide – This is an ebook by Lisa Byrne that I emailed to my Kindle for easier reading. Lisa had sent me a review copy — as well as a promise to help me get healthy! How nice is that? Regular readers will know that "to get healthy" is one of my goals for the year. I've got a physical scheduled for next week; I'm exercising about three times a week; and I'm trying to watch what I eat.
This book helped me dispel some myths about what a cleanse is. I feared that it was some funky thing that involved drinking gross stuff and spending the day in the bathroom. Au contraire, mon frere. It's simply the idea of abstaining from a certain food or group of foods for a certain amount of time to let your body have a break from it.
Lisa breaks the idea down into easy steps and gives you the tools to make a cleanse a success, as well as describing a range of eating programs from really easy (like omitting red meat for a time) to the more difficult (eating only raw foods). While I can't vouch for the health benefits of a cleanse, I do appreciate the education I gleaned from this book and am thinking of trying a farmer's market cleanse sometime before school starts.
(Psst. that is my affiliate link for the book. Feel free to hop over to Lisa's main page if you prefer.)
The Bible in 90 100+ days – Last month I started reading the Bible along with Mom's Toolbox. I am not on the reading schedule. The train left the station and I wasn't on it. But instead of walking home, kicking up dirt, or running after the train trying to catch it, I decided to just take the next train. I'm behind the group, but feel better just taking it one day at a time. The important thing is to be reading what God has to say, so I'm good.
On a practical note, I downloaded both a free Kindle Bible as well as a sample of the 90 Days Bible that included the reading schedule. This helps me keep the Bible with me wherever I go — and I don't lose my place.
Read any good books lately?
Tell us in the comments all the great stuff you've been reading. If you've got a Booking It post, link it up below.