Booking It (February Update: The Money Saving Mom's Budget)
As an Amazon Associate I earn from qualifying purchases. For more details, please see our disclosure policy.
Booking It is an online book club where we discuss what we've read over the past month as well as review a monthly assigned book. This month's book is The Money Saving Mom's Budget by Crystal Paine.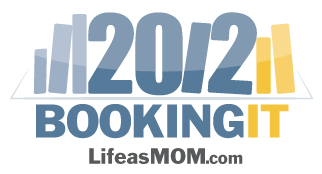 We had a revelation at our house this week. I kept walking into FishBoy9's bedroom after the boys were "sent to bed" and he was awake, reading. His brother in the other bed was snoring. And the clock read well past bedtime. Night after night this was happening until I got to the bottom of it. Turns out he thought that "time for bed" meant you just had to be in your bed. You were free to do whatever you wanted, so long as you were in bed.
That explains why he's so tired each morning. We've now clarified our directive to be, "Time to sleep."
I can't say that I blame him, though. When I find a good book, I'm happy to stay up all night, even if I pay the consequences the next day. Unfortunately, I've been so swamped by other tasks, lying in bed reading has been an elusive pleasure. All the same, I did get to dig into a few books, though I only finished one.
Here's what I've been reading lately:
(Please note that if you make a purchase from one of the links in this post, I will receive a small percentage of the sale.)
The Hobbit
I've started reading The Hobbit by JRR Tolkein aloud to my younger kids. Yeah, I know. That's cheating on the book club, isn't it? Reading ahead. Sorry. It's a habit.
Anyway, we're about two-thirds of the way through. I know that I read it when my oldest boys were little, but I'm thinking that might have been about seven years ago. So, in many ways it's like reading it for the first time. I seem to have forgotten much of the story line.
It's been fun in the evenings to curl up in blankets and read a chapter or two. My middle four kids (ages 11, 9, 7, and 5) are usually huddled around listening to the story, so it's definitely become a group activity.
Bird by Bird
Two friends both recommended Bird by Bird by Anne Lamott. The subtitle reads, "Some Instructions on Writing and Life." It's a book about writing as well as about living. And kinda dovetails with that whole "living a better story" kind of thing.
While I haven't been completely sucked in, I have enjoyed what I've read so far. I'm only about 1/3 of the way into it. I've laughed aloud, and I've read things that have made me go, "Hmmm." So far, so good.
I don't really think of myself as a "writer," at least not in that black turtleneck, beret, cigarette, and jazz music playing in the background kind of way. I don't think I'm profound enough. Or well-read enough. I'm just me, you know? But, I am still learning and enjoying the book for what it is.
Mindset for Moms
Mindset for Moms is written by friend Jamie Martin. I first "met" Jamie a couple years ago when I reviewed her first book, Steady Days. Since then we've gotten to know each other online and through writing for Simple Homeschool, the site she edits.
Jamie mothers three children, born on three different continents, building her family through adoption as well as naturally. I love her fresh perspective on life — and her positive attitude.
Positive attitude is what Mindset for Moms is about. The subtitle reads, "From Mundane to Marvelous Thinking in 30 Days." I've only just started to dig in, but I'm looking forward to learning from Jamie about retraining my brain to think more on the bright side.
Jamie sent me a review pdf copy, but I went ahead and bought the Kindle version (only $4.99) so that I could take it with me — and maybe even read in bed! The book is only available in ebook form, either pdf or kindle, at this time.
The Well Trained Mind
As part of my Extreme Home(school) Makeover, I've been rereading The Well-Trained Mind by Susan Wise Bauer and Jessie Wise. This was the first real book I read on homeschooling over a decade a go. And it's been really good to go back to it and refresh.
I'm reading it backwards this time. The first time I read it, I only had a two-year old. And apparently a lot of free time on my hands. I know that I read it cover to cover in a week's time. Now I have kids in high school, 6th, 4th, 2nd, and kindergarten — and infinitely less reading time on my hands.
So, I'm starting in the section on older kids and working my way back. Some folks have mentioned that the book appears intimidating, but honestly, you don't have to read the whole thing. You can easily start in the section where you're at in life and then digest other sections as you have time.
I did actually finish a book this past month. Hehehe. This one:
The Money Saving Mom's Budget
Written by my friend, Crystal Paine, The Money Saving Mom's Budget is a great place to start in getting your financial house in order. I told you a little bit about it last month; Crystal was my personal coach for awhile when we both lived in Kansas City and my family was digging out of debt. My best garage sale EVER was thanks to her savvy ways and companionship.
Crystal puts that same enthusiasm to help others into her book.
Taking an unusual approach to money management, Crystal addresses goal setting, clutter, time management, and home economics. These are great ideas because they do effect how you spend your money. Once you have control of these basic areas of life, you'll be better equipped to control your money.
Crystal also offers some unique challenges:
Use coupons.
Pay cash.
Ditch the credit cards.
Be content with what you have
You may balk at one or more of those ideas, but I know that they work. Been there, done that. While I don't use coupons like I used to, Crystal's challenge reminds me that every little bit helps. $5 worth of coupons used weekly on things you would normally buy and use anyway adds up to $260 over a year's time. That's a pretty nice savings. And she shows you how to do it in this book.
I spent some time reading the Amazon reviews of this book, particularly the negative ones to see what objections other readers might have had. I think one valid critique that I read was that this is more of a beginner's book. And I would agree. If you are just now trying to get your finances in order, if you didn't grow up in a financially healthy (ie responsible, not rich) home, if you don't know how to get out of debt, then this is a fabulous starting point.
On the other hand, if you have no debt to work out of and are already a coupon clipper, you may not find all new ideas.
However, with all things, I think different voices "speak" to different people. I listened to Larry Burkett for years. Great man that he was, he just didn't do it for me. Nothing he said sunk in. Dave Ramsey, on the other hand, with his hard-hits did.
So, I keep this in mind. MSM's Budget may not be "new" news, but different people have a way of communicating things in the way that we "get it" — finally. Crystal's may be that voice for you.
I personally found it to be a great refresher course. I was reminded of things that have worked in the past and things that I should revisit. I realized which habits I've let slide and that resurrecting them might put a little more cash back into my hot little fist.
I think The Money Saving Mom's Budget does a great job in summing up the basics to home, money, and life management.
Have you been Booking It?
Apparently, I've got a thing for unfinished books this month. I've started FOUR books that I need to finish. Heavens!
In the meantime, tell us about the books you've read! If you read The Money Saving Mom's Budget, be sure to tell us what you thought of it.
Check out the list of 12 books that we'll be reading together this year. Next up: A Million Miles in a Thousand Years