Booking It in October
As an Amazon Associate I earn from qualifying purchases. For more details, please see our disclosure policy.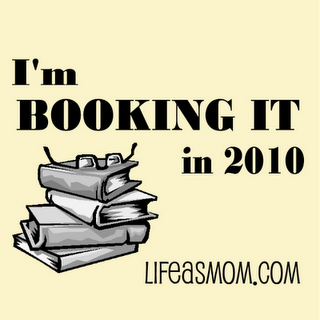 It's amazing to me that we started booking it ten months ago.
Where did the year go?
I hope that you've found some good reads thanks to this virtual book club. I know we have. Thanks to Carrie, our family enjoyed The Search for Delicious, a book I had never even heard of. The kids still talk about it!
And if it hadn't been for Chandy's review of The Guernsey Literary and Potato Peel Pie Society and comments from the rest of you, I might have missed out on the best novel I've read in a very long time.
This past month, however, I finished reading the best book ever written.
Yes, ma'am, I finished my goal of reading through the Bible. I didn't do it 90 days, but I did finish reading in 100. As I mentioned before, my purpose wasn't to rush or be in a hurry. But, I did want to be purposeful in my reading.
In retrospect, I think the pace of 12 pages a day is very doable. I know, it sounds like a lot. But, really, it took about 45 minutes a day.
Things got a little crazy when I got behind and then spent a few hours at a time catching up. That wasn't quite so doable. But, it was good, nonetheless. My friend Amy has orchestrated this online Bible reading book twice this year and she'll be doing it again. It's quite an undertaking and I'm so thankful for her constant support and encouragement not to give up.
I may just do it again. 🙂
What about you? Read any good books lately?
Next Booking It Meeting: November 9