Booking It: The May Update
As an Amazon Associate I earn from qualifying purchases. For more details, please see our disclosure policy.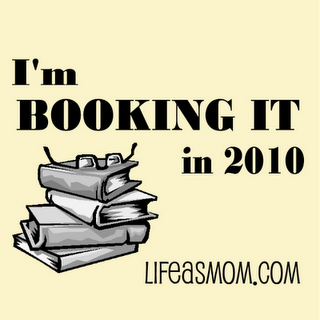 I have been updating my original reading goals for the year. You all have supplied such great book suggestions that I have to add them. I think I've found some kindred spirits amongst those who link up or comment each month and share their good reads. Thank you!
I don't know a lot about these books. They come highly recommended, though, so I'm going to check them out.
My updated reading list includes:
Many of the books I read over the past month were books that you recommended. I had an absolute blast! You guys rock the book scene!
Here's what I've been reading over the last month:
$5 Dinners
The $5 Dinner Mom Cookbook by Erin Chase is a great resource for anyone looking to shave down their grocery budget. The front matter of the book is exceptional as it offers the basics to couponing, meal planning, and grocery shopping on a budget. If you just go to the store and buy whatever suits your fancy, you're probably spending more than you have to. Erin demystifies the grocery store.
I love Erin's approach to dinnertime. Each meal costs $5 or less. Really and truly. Some might shake their heads and question the reality of that. But, it is totally possible. Totally. Her $5 figure is based on feeding a family of four. I know that I can sometimes feed our family of 8 at around six bucks, so if your family is smaller, you can absolutely do this.
The book is filled with a wide range of recipes and includes price breakdowns as well as frugal tips about stocking up. I particularly appreciated the target prices she includes. Honestly, it made me feel good that I can easily match or beat her Ohio prices, living here in sunny Southern California. Ha!
This is a great book for you if you're looking to reduce your grocery spending. But, it would also make a great gift.
Want to Go to Paris?
The Sharper Your Knife, the Less You Cry: Love, Laughter, and Tears in Paris at the World's Most Famous Cooking School spoke to my French-speaking, food-loving side. Author Kathleen Flinn recounts her experiences living in Paris, attending the Cordon Bleu, and finding the love of her life. It took me back, literally, to when I lived in France so many years ago. It also prompted me to seriously consider starting that French Vacation fund.
If you like to cook — or just like to eat, you will enjoy this book. It's not deeply intellectual, but definitely a "feel good" read. Each chapter is characterized by a school incident, a personal life narrative and ends with a recipe, some of which sound delicious. There are quite a few poignant moments and clever one-liners that resonated with me.
Someday I just might go to cooking school!
How About Disneyland?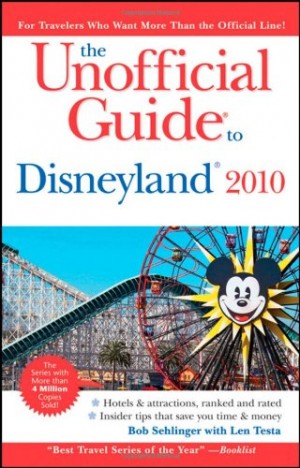 The Unofficial Guide to Disneyland 2010 by Bob Sehlinger was recommended over and over when I asked readers for advice about Disneyland. I admit I was quite skeptical. A guidebook for Disneyland? Come on! But, I went for it and at this point, I'm pretty glad I did. (Ask me again after we actually go.)
A self-proclaimed "Disney Commando Manual," the Unofficial Guides tell you everything you need to know to get in, get out, and stay sane. All of it is recounted with humor and a breath of fresh air. I often found myself laughing out loud and reading parts to FishPapa.
When I was a child, my father had a set plan for "how to do Disneyland," usually with the objective to hit the big rides as soon as the park opened and to avoid as many long lines as possible. This guide could have been written by my dad! Even now, 30 years later, their recommendations aren't all that different from dear old Dad's.
Truth be told, I love the idea of tackling the parks like a Green Beret. However, I have eight other people to consider: FishPapa, Auntie Jamie, and the FishKids. Plus, at least two kiddos won't be able to go on all the rides. This guidebook covers all those issues as well travelling with kids, accommodating different personalities, and more.
Potato Peel Pie, Anyone?
The Guernsey Literary and Potato Peel Pie Society by Mary Ann Shaffer, Annie Barrows was such a delight to read that I had a hard time putting it down. The story takes place in post-World War II England as young writer Juliet begins a correspondence with some residents on the British Isle of Guernsey who survived the British occupation of their island. They had formed a literary society during the war as a way to establish an alibi for "illegal" activities. But the literary society becomes a source of friendship and sustenance for the Guernsey folk during a very trying time.
The story is recounted through a series of letters, most of them written to or by the main character, Juliet. Instantly, I felt a kinship and familiarity with Juliet, feeling that I really knew her and wanting a happy ending for her.
The story is entertaining and engaging and utterly profound. It reminded me of the hell of World War II, something I might be apt to forget in my oh-so-cushy life. It reminded me of the importance of freedom and liberty and the sacrifices of those who fight to preserve it. It reminded me of how books can tie us together.
The book was a wonderful trip through time, space, and literature.
How 'bout you?
What did you read? Share it in the comments or post your link in Mr Linky below.
Disclosure:  I did receive a review copy of The $5 Dinner Mom Cookbook. I was not compensated in any way for reviewing this book, nor was I required to do so. My opinions are my own. For more information, please see my disclosure policy.