Booking It with Finding Your Purpose as a Mom
As an Amazon Associate I earn from qualifying purchases. For more details, please see our disclosure policy.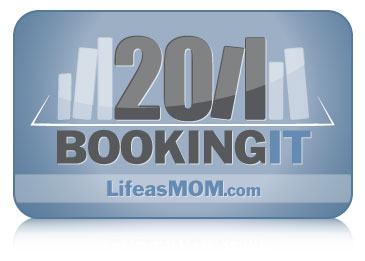 This year we're Booking It on LifeasMOM. It's an online book club designed to get you off the computer, phone, and boob tube and into a book. Reading is an adventure! You learned this long ago. But, in our older years, it is tempting to forget.
On the 10th of each month, we're discussing an assigned book, one of the Eleven List. On the 11th there's a link up opportunity to share all your reading of the past month.
Finding Your Purpose as a Mom
This month's "assigned reading" was the book, Finding Your Purpose as a Mom: How to Build Your Home on Holy Ground by Donna Otto. I first read this book about six months ago and really enjoyed it then. This second reading has been harder "to get into."
While I have a few critiques this time through, I stand by original summation that
This book is a gem of information in growing as a mom, being intentional in your homemaking, and full of practical as well as inspirational ideas for improving the atmosphere of your home.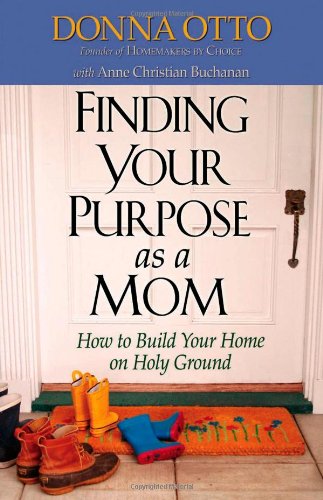 Inspiring Ideas
Finding Your Purpose as a Mom is jam-packed full of ideas, both practical and theoretical, about how to be a better mother and home-maker. I love what she says in the introduction:
Regardless of who you are, whether you've made the choice to be a stay-at-home mom or work outside the house, whether you are married or single, whether your house is a double-wide in a desert or a mansion on a hillside…. Your home really is holy ground because it's a place where God has chosen to live and do his work.
I'm encouraged to remember that my circumstances do not matter, but that God has sovereignly ordained me as the mother in this family and He has good work for me to do.
The book is peppered with lists to get you thinking about your intentions at home: how to encourage growth and learning in your home, how to prepare for guests, things to consider for family service to the community, and so on. The lists alone are quite thought-provoking, adding to the meatiness of the book.
I love the list on page 34:
Make peace at home a priority.
Practice trust and gratitude.
Live with a thankful heart.
Cultivate a quiet heart — give yourself the peace you need.
Cultivate a gentle spirit.
Learn to speak softly.
Know your family.
Cultivate a spirit of "we."
Provide peaceful places for those you love.
A Few Critiques
However, in this second reading I found myself getting hung up on a few points. I found that we have differences of terminology. She speaks a type of Christian-ese that I don't regularly use. I guess I glossed over that the first time I read it. During this second reading, that slowed me down a little as I tried to discern exactly what she meant.
I also found myself disagreeing with some of the author's applications. In the section on growing faith-filled children, Mrs. Otto recommends that memorizing the books of the Bible are a bottom-line prerequisite for adulthood: "At the very least, I believe, a child who leaves your nest should know the books of the Bible and the order in which they appear." (p. 163)
While I think this is certainly valuable information, I don't think it's necessary to a fruitful, God-saturated life. And to be honest, I don't know all the books of the Bible or the order in which they appear. So, I'm certainly not going to hammer that at my kids.
Learning through Disagreements
But, these hang-ups of mine are minor. And what's more, there's value in them. As I was struggling to read this book, I saw that I was not seeing the forest for the trees. It's all too easy for us to start nit-picking on some small thing we disagree on, rather than to  focus on the Big Picture. I took myself to task on that.
The point is that I teach my children what I believe and show them evidence of God working in their lives, to saturate their lives with God's word, and to be an example of His goodness.
Principles matter more than applications.
I think Mrs. Otto's overall message is to instill in us a joy and fervor for our homes, to encourage us to take our roles as mothers seriously, because God does. And while we may disagree on how to apply certain principles, it's good to agree on the most important things: loving our families, loving God, making home a place where people want to be.
What did YOU think?
Share your thoughts on this book in the comment section. Tomorrow, we'll have a link up for all your Booking It reading.
Have you missed past Booking It days? Check out the other assigned reading we've read this year: