Booking It with The Help by Kathrynn Stockett
As an Amazon Associate I earn from qualifying purchases. For more details, please see our disclosure policy.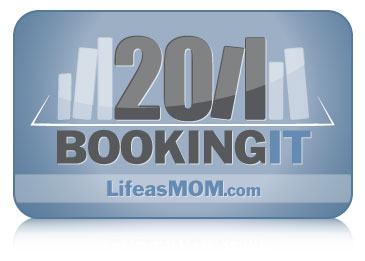 This year we're Booking It on LifeasMOM. It's an online book club designed to get you off the computer, phone, and boob tube and into a book. Reading is an adventure! You learned this long ago. But, in our older years, it is tempting to forget.
On the 10th of each month, we're discussing an assigned book, one of the Eleven List. On the 11th there's a link up opportunity to share all your reading of the past month.
This past month we read the book, The Help, by Kathryn Stockett, an amazing look into the early 1960s Mississippi and three brave women who challenge the status quo.
It's so hard to review a book without giving away the details. And yet, I would add this to the list of great reads for the year. So how do I tell you why you should read this book without telling you too much?
It will encourage you to love all people.
Whether or not race relations are a daily part of your life or not, chances are you feel "at odds" with those around you from time to time. The lives portrayed in this book are a testimony to the fact that we are all created in God's image. There is a bottom-line level of respect that we are called to give to one another, regardless of our similarities or our differences. Being brave enough to speak the truth in love, despite the status quo, is a remarkable feat. And one I hope we can cultivate more.
It will remind you to love your children — and to show them so.
The novel is told from the perspective of three women in the turbulent segregated times in Mississippi, one white and two black. Through their eyes we see families, marriages, relationships, and motherhood. There are some pictures of motherhood that I don't want to be mine. And by reading about those who are short-tempered or ignorant of their children's needs and hopes, I am reminded to be all I can be for my kids.
It will show you what a first time author can do.
Often we assume that seasoned authors are the ones to read. Surely, I love to go back to folks like Jane Austen or CS Lewis who always take me on a great trip. But there is a world of great first-time author books, including The Guernsey Literary and Potato Peel Pie Society and To Kill a Mockingbird. The Help fits in this crowd and gives us hope to expect more great things from Kathryn Stockett.
This was an amazing book. It moved me. It taught me some history I didn't know. It showed me hope amidst hard circumstances. Can't wait to see the movie!
If you read the book, I'd love to hear what you thought. Today in the comments we'll be discussing this book. Feel free to leave a link if you wrote extensively about your thoughts on it. Tomorrow we'll have a link up to share all Booking It endeavors from the last month.
So, what did YOU think?