Booking It with the Reluctant Entertainer
As an Amazon Associate I earn from qualifying purchases. For more details, please see our disclosure policy.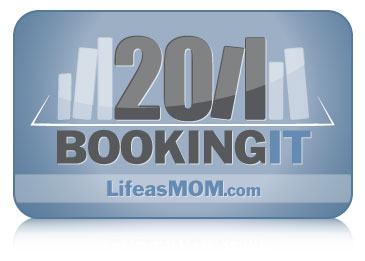 This year we're Booking It on LifeasMOM. It's an online book club designed to get you off the computer, phone, and boob tube and into a book. Reading is an adventure! You learned this long ago. But, in our older years, it is tempting to forget.
On the 10th of each month, we're discussing an assigned book, one of the Eleven List. On the 11th there's a link up opportunity to share all your reading of the past month.
This month's "assigned" reading was The Reluctant Entertainer: Every Woman's Guide to Simple and Gracious Hospitality by Sandy Coughlin.
This book is a shot in the arm for anyone feeling hesitant to open her home to others. That's a big risk, to be sure.
What if my food is horrible? What if folks are bored? What if the evening is full of awkward moments?
These are definitely real concerns. Those things could really happen. But, if we give into the fear of those things, we miss out on the benefits of fellowship at home. The message of The Reluctant Entertainer is to equip you with the confidence and the tools to overcome those fears and pull off a fun evening with friends.
Reading through the book I was reminded of our newlywed days. We lived in a one-room studio with a little lean-to kitchen. It was 200 square feet. Definitely not an entertaining showplace. But, we had some of the best times with friends we had over for suppers after church. We still see some of those friends, now eighteen years later. We love to linger over a meal, talk about new and old times, and laugh together.
Yes, there is a cost involved in inviting folks in, but there can also be great benefits.
That's what The Reluctant Entertainer strives to help you achieve. It's a great starting point for anyone wanting to open their home more often or more easily. (And it would make a great Christmas gift, too.)
Are you booking it with us this month? Did you read The Reluctant Entertainer this month?
What did YOU take away?
*Tomorrow there will be a link up for ALL your reading of the last month. Today we're just talking about The Reluctant Entertainer.