Books and What to Do with Them (Zone Defense)
As an Amazon Associate I earn from qualifying purchases. For more details, please see our disclosure policy.
On Zone Defense this month, we're tackling living spaces. Books play a big part in how we live, so let's get them organized and avoid the visual and physical clutter.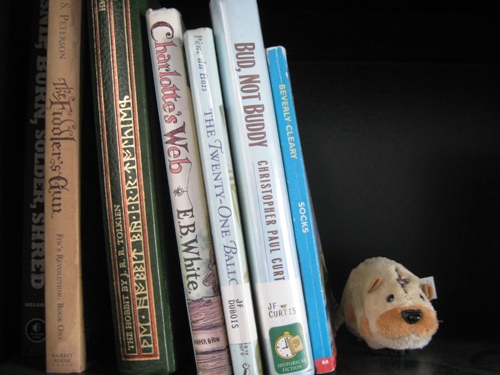 As a family of book lovers and folks who do school at home, we have a lot of books. A lot.
Over the years I've tried to pare down our collection to those that we love, that we really need for school, or that are difficult to get from the library. We also like to give the kids books for birthdays and Christmas so that they can start building their own personal libraries.
There's just something sweet and comforting about a well-loved and well-worn hard copy book. While we have a Kindle, an iPad, and numerous devices on which to read electronic books, I still love being able to turn a physical page. So, I don't think that we'll ever really say goodbye to real live books.
Who would want to?
But what to do with all those books?!
That said, books do take up space and can contribute to the clutter in a household if not organized and corralled in someway. Here are several different means that we use for organizing and storing our books.
1. Deep storage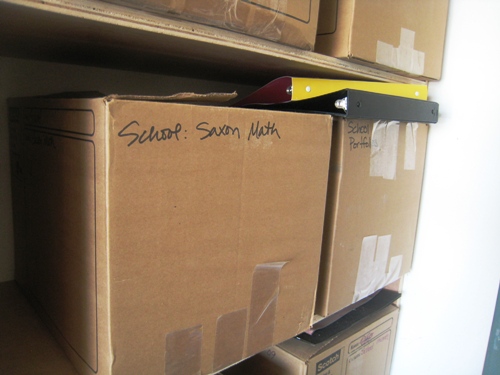 Some of our books are those that are not needed on a regular basic, but are those that we dig out for a certain season. Many of our music books, holiday books, and school books which are designated for a certain grade level or subject are stored in boxes on shelves in our garage.
Since we live in a temperate climate, our garage rarely gets too hot or too cold, so this works for us. When we lived in Kansas, I stashed these boxes in the backs of closets.
Keeping these books that we reference once a year or once every few years in boxes helps relieve visual clutter on the shelves and helps me find them when I really do need them.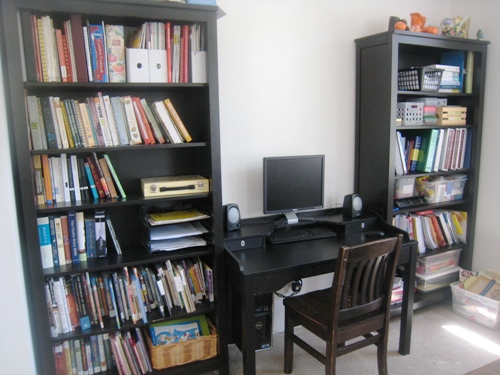 2. Book shelves
We have tall bookcases in my office, the school room, and in the aforementioned garage. We try to store books as close to the place of use as possible. So, personal and writing books go in the office, school and library books in the school room, and pleasure reading or other general school books that we want to reference on a regular basis go in the garage.
Bookshelves are a tricky thing. I love the looks of them, but kids, lazy or otherwise, have a hard time putting books back on the shelf in a way that lends itself to neatness. Just saying.
Our school shelves need to be straightened regularly, so that they don't look like a jumbled mess. But, I've got some people that are now old enough to take on the task.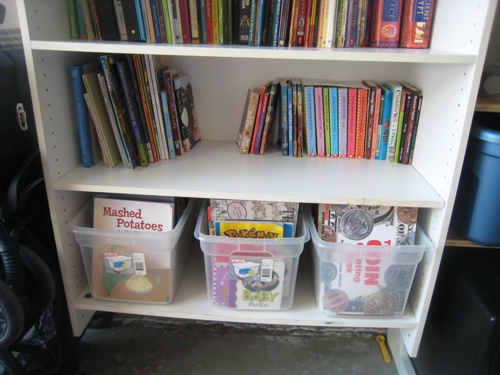 3. Sterilite boxes
Years ago I read in an organizing book about making things easier to put away that take out. It's a brilliant idea if you can pull it off. One way that we do this with children's books is to store them in Sterilite boxes on the book shelves. It's easier for little hands to toss them into the box than to line them up on a shelf. And to retrieve a book, they just need to flip through the box like in a card file.
Keeping storybooks in these boxes also makes it easy to pull out a box to use in the car or bedroom or some other place in the house for easy reading.
This year we're on Zone Defense, moving room by room, tackling clutter and disorder. This month we're closing in on living spaces. Check out the month's general assignment or browse the archives to see previous months' assignments. 
How do YOU organize your books?