Today's assignment is to get rid of things you don't need.
I love the days between Christmas and New Years. Not only are the kids totally enraptured by new playthings, but I'm highly motivated to get our house in better order. FishPapa typically gets the fever for decluttering at this time of year as well.
We do love a good Do-Over at our house.
Today's assignment is to look around your house and pick a small area to dejunk. It might be the coat closet or your closet or a kitchen cupboard. Grab a trash bag or a cardboard box and collect some items that you no longer need or want. Discard them and enjoy some new space.
I recently did this dejunking in the kitchen and it's so much more fun to cook now!
You don't need to make a big production of it. Just go find a dozen things that you can jettison from your life. You'll have extra space and breathing room.
PS. I liked this article about unusual ways to declutter.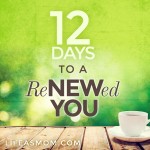 This post is part of a 12-part series, 12 Days to a Renewed You. You can read through the archives here.