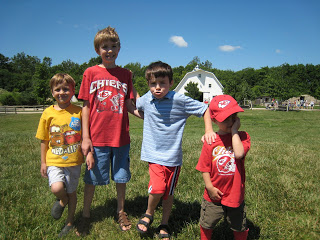 Over the years as God kept adding boy after boy after boy after boy to my brood, I came to identify with the rough and tumble nature of our home. I was a prissy girl, so I had a lot to learn.
But, I found that God early on blessed me with an appreciation for all the testosterone pumping throughout my house. I have a fierce, Mama-Bear love for my boys.
Recently one of the challenges we've faced has been some small-scale brawls amongst the FishBoys. Nothing major, but enough for me to cry out to the Lord, "But, my children weren't supposed to fight."
I'm sure God got a great chuckle out of that one.
Last week one FishBoy gained a small scratch on his face after a little tousling. Following the incident, one morning's breakfast discussion went like this.
FishPapa to me: Did you see FishBoy's scratch?
FishBoy (with enthusiasm): Yeah. I hope it leaves a scar.
FishPapa: Only a boy would say that.
(FishBoys all look quizzically at me.)
FishMama: A girl would say, (in a squeeky voice of despair)"Oh my goodness! It's going to be there forever!"
They thought that was hilarious! Their looks said it all: And this is a bad thing?